Download NAFCU's 2020 Strategic Growth Conference Brochure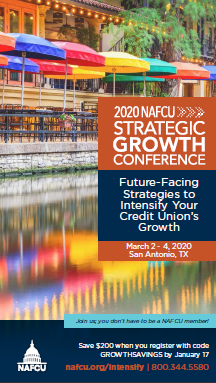 NAFCU's 2020 Strategic Growth Conference in San Antonio, Texas, March 2 – 4, will give you tools and insight for how to help your credit union be the best financial institution, period. You'll walk away with leading strategies and real-world examples for driving growth, staying relevant now and in the future, and outperforming your competition. If you thirst for what's next so your credit union can thrive, this is the perfect conference for you. All in a city ranked a "Best Places to Travel" by Travel + Leisure magazine.
Please fill out your information to download the brochure now.