February 14, 2020
5 things CU leaders need to know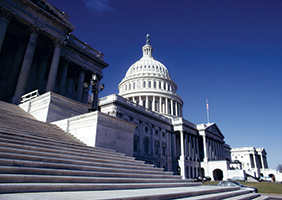 NAFCU's widely-read NAFCU Today is credit union leaders' go-to source for the latest on issues impacting the credit union industry. For those short on time, here's a roundup of this week's need-to-know news bits:
Fed dreams dashed? Shelton in the hotseat
The Senate Banking Committee Thursday held a hearing with two nominees for the Federal Reserve Board of Governors – Judy Shelton and Dr. Christopher Waller – which committee chairman Mike Crapo, R-Idaho, described as "very aggressive." Shelton was on the receiving end of the aggressive questioning, with senators asking Shelton about her previous positions on various monetary issues, including lowering interest rates, devaluing the dollar, and maintaining the Fed's independence. Waller, an economist at the Federal Reserve Bank of St. Louis, was less controversial and shared insights into how his experience as an economist for the Fed would affect his approach to monetary policy.
Data protection bill on the horizon?
Sen. Kirsten Gillibrand, D-N.Y., yesterday introduced legislation to create a federal agency in charge of protecting Americans' data, safeguarding privacy, and ensuring fair and transparent data practices. "The [Data Protection Agency (DPA)] will have the authority and resources to effectively enforce data protection rules – either created by itself or Congress – and would be equipped with a broad range of enforcement tools, including civil penalties, injunctive relief, and equitable remedies," the release said. NAFCU is a leader in calling for national data security standards and in December published a whitepaper detailing data privacy principles for a comprehensive federal data privacy standard that protects consumers and preempts competing state privacy laws.
Varo tries to shed fintech skin to become a bank
The FDIC has approved Varo Money's application for deposit insurance, positioning it to become the first fintech company to obtain a national banking charter if it receives signoff from the Office of the Comptroller of the Currency (OCC). In 2018, the OCC released a fintech charter – which has faced legal challenges – that establishes a first of its kind regulatory framework for fintech companies and addresses many of NAFCU's recommendations regarding fintech supervision, such as equal application of consumer compliance expectations. Acknowledging the benefits of fintechs, NAFCU developed a whitepaper last year that charts a path toward regulatory coordination between traditional financial institutions and fintech companies to ensure a level playing field.
Don't want the coronavirus? Follow these tips
The Centers for Disease Control and Prevention (CDC) has released two public service announcements to help stop the spread of the coronavirus. The CDC urges people to not travel to China, as that is where sustained community spread is occurring, and they also tell the general U.S. public to not wear facemasks. For those who begin to develop symptoms – who have traveled to China recently or have been in contact with someone with the coronavirus – the CDC says to seek medical treatment, but to call the doctor's office or hospital prior to arrival to inform them. More information is available and regularly updated on the CDC's website.
Wireless juggernauts get green light to merge
A federal judge has rejected a lawsuit challenging the merger between T-Mobile and Sprint. A group of state attorneys general sued to block the merger between the No. 3 and No. 4 largest wireless carriers, arguing that it would harm consumers by reducing competition in the market. T-Mobile is now set to acquire Sprint for $26 billion, which has received approval from the Federal Communications Commission and Justice Department. Part of the deal includes a commitment to provide 5G wireless access to essentially all Americans within six years.
Related Resources
Add to Calendar 2020-02-18 14:00:00 2020-02-18 14:00:00 How to Attract, Retain, and Engage Employees with a Strong Learning Culture About the Webinar  The modern business world is one where things change rapidly and information gets transmitted almost instantaneously. In our constantly changing environment, only the truly flexible and adaptive companies will excel. In this panel discussion, we'll discuss how to build an adaptable learning and development program. By fostering autonomy and meaning in your credit union's culture, you can remain competitive in your business and in your employee recruitment and retention. Please note: as of January 1, our webinar platform no longer functions on Internet Explorer. Please use Google Chrome or another browser to watch our webinars. Register for the Webinar Web NAFCU digital@nafcu.org America/New_York public
webinar
preferred partner
Allied Solutions
Add to Calendar 2020-02-18 14:00:00 2020-02-18 14:00:00 The Changing Landscape of eMortgage Join Rebecca Perkovich and Ridaa Mian Chippa, eMortgage Product Development Managers at Fannie Mae, to learn more about what drove 2019 results, and the opportunities ahead for your business in 2020. In this webainr we'll review insights about the digital mortgage landscape and what we've learned from customers who are taking advantage of it. We'll also focus on digital closing adoption and implementation best practices – the how and what, not just the why. Key Takeaways Learn how to get started with a hybrid eClosing as a natural entry point to digital Review why a digital mortgage solution offers a competitive advantage for your organization Understand the eMortgage and eClosing Basics Receive a Sample Onboarding Schedule Discuss the current digital mortgage landscape Learn what we're hearing from lenders, title and settlement agents and borrowers Purchase Now$295 Members | $395 Nonmembers (Additional $50 for CD)One registration gives your entire credit union access to the on-demand recording until February 18, 2021.Already registered? Go to the Online Training Center to view live. Who Should Attend? Lending staff Marketing staff Business Development staff Operations staff Executive Management Education Credits CPA credit information is below; recommended 1.5 CPE credits. CPA Certification Credit Information Reviewer: Josie Collins, Education Manager, NAFCU Learning Objectives: Learn how to get started with a hybrid eClosing as a natural entry point to digital.  Review why a digital mortgage solutions offers a competitive advanctage for your organization.  Understand the eMortgage and eClosing Basics.  Discuss the current digital mortgage landscape.  Learn what we're hearing from lenders, title and settlement agents and borrowers.  Program Level: Basic Prerequisites Needed: None Advance Preparation Needed: None Delivery Method: Group Internet-Based Recommended CPE Credits: 1.5 credits Recommended Field of Study: Management Services - Technical National Association of Federal Credit Unions (NAFCU) is registered with the National Association of State Boards of Accountancy (NASBA) as a sponsor of continuing professional education on the National Registry of CPE Sponsors. Learn more. About Our Webinars Our webinars are streamed live from NAFCU headquarters near Washington, D.C. Your audio/video feed of the presenters includes presentation slides and downloadable handouts. You can easily submit your questions to the presenters at any time during the live broadcast, with no dialing over the phone! The audio and video stream directly through your computer. Web NAFCU digital@nafcu.org America/New_York public
Credits: CPE
webinar
---
Get daily updates.
Subscribe to NAFCU today.