February 14, 2020
5 things CU leaders need to know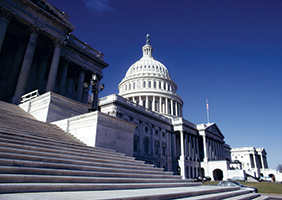 NAFCU's widely-read NAFCU Today is credit union leaders' go-to source for the latest on issues impacting the credit union industry. For those short on time, here's a roundup of this week's need-to-know news bits:
Fed dreams dashed? Shelton in the hotseat
The Senate Banking Committee Thursday held a hearing with two nominees for the Federal Reserve Board of Governors – Judy Shelton and Dr. Christopher Waller – which committee chairman Mike Crapo, R-Idaho, described as "very aggressive." Shelton was on the receiving end of the aggressive questioning, with senators asking Shelton about her previous positions on various monetary issues, including lowering interest rates, devaluing the dollar, and maintaining the Fed's independence. Waller, an economist at the Federal Reserve Bank of St. Louis, was less controversial and shared insights into how his experience as an economist for the Fed would affect his approach to monetary policy.
Data protection bill on the horizon?
Sen. Kirsten Gillibrand, D-N.Y., yesterday introduced legislation to create a federal agency in charge of protecting Americans' data, safeguarding privacy, and ensuring fair and transparent data practices. "The [Data Protection Agency (DPA)] will have the authority and resources to effectively enforce data protection rules – either created by itself or Congress – and would be equipped with a broad range of enforcement tools, including civil penalties, injunctive relief, and equitable remedies," the release said. NAFCU is a leader in calling for national data security standards and in December published a whitepaper detailing data privacy principles for a comprehensive federal data privacy standard that protects consumers and preempts competing state privacy laws.
Varo tries to shed fintech skin to become a bank
The FDIC has approved Varo Money's application for deposit insurance, positioning it to become the first fintech company to obtain a national banking charter if it receives signoff from the Office of the Comptroller of the Currency (OCC). In 2018, the OCC released a fintech charter – which has faced legal challenges – that establishes a first of its kind regulatory framework for fintech companies and addresses many of NAFCU's recommendations regarding fintech supervision, such as equal application of consumer compliance expectations. Acknowledging the benefits of fintechs, NAFCU developed a whitepaper last year that charts a path toward regulatory coordination between traditional financial institutions and fintech companies to ensure a level playing field.
Don't want the coronavirus? Follow these tips
The Centers for Disease Control and Prevention (CDC) has released two public service announcements to help stop the spread of the coronavirus. The CDC urges people to not travel to China, as that is where sustained community spread is occurring, and they also tell the general U.S. public to not wear facemasks. For those who begin to develop symptoms – who have traveled to China recently or have been in contact with someone with the coronavirus – the CDC says to seek medical treatment, but to call the doctor's office or hospital prior to arrival to inform them. More information is available and regularly updated on the CDC's website.
Wireless juggernauts get green light to merge
A federal judge has rejected a lawsuit challenging the merger between T-Mobile and Sprint. A group of state attorneys general sued to block the merger between the No. 3 and No. 4 largest wireless carriers, arguing that it would harm consumers by reducing competition in the market. T-Mobile is now set to acquire Sprint for $26 billion, which has received approval from the Federal Communications Commission and Justice Department. Part of the deal includes a commitment to provide 5G wireless access to essentially all Americans within six years.
Related Resources
Add to Calendar 2020-03-31 14:00:00 2020-03-31 14:00:00 It's 2020: Don't Let Your Member Data Fall Into the Wrong Hands About the Webinar  What can fraud and cybercrime attacks from 2019 tell us about coming threats? How are criminals continuing to get their hands on your data? Attend this webinar to gain answers to these questions and to learn practical strategies for protecting data and preventing cybercrime in 2020. Key takeaways from this webinar include: Cybercrime, data breach, and fraud trends & predictions Actionable strategies to protect internal and third-party data Additional tips to prevent exposure to fraud and data theft Watch the Webinar On-Demand Web NAFCU digital@nafcu.org America/New_York public
preferred partner
Allied Solutions
Webinar
Fraud, Cybersecurity, Risk Management, Security, Web/Tech
Blog Post
Add to Calendar 2020-03-30 08:00:00 2020-03-30 08:00:00 Fighting Fraud with Data Listen On: Web NAFCU digital@nafcu.org America/New_York public
preferred partner
Q2
Podcast
Consumer Lending
Blog Post
---
Get daily updates.
Subscribe to NAFCU today.