April 28, 2023
5 things to know this week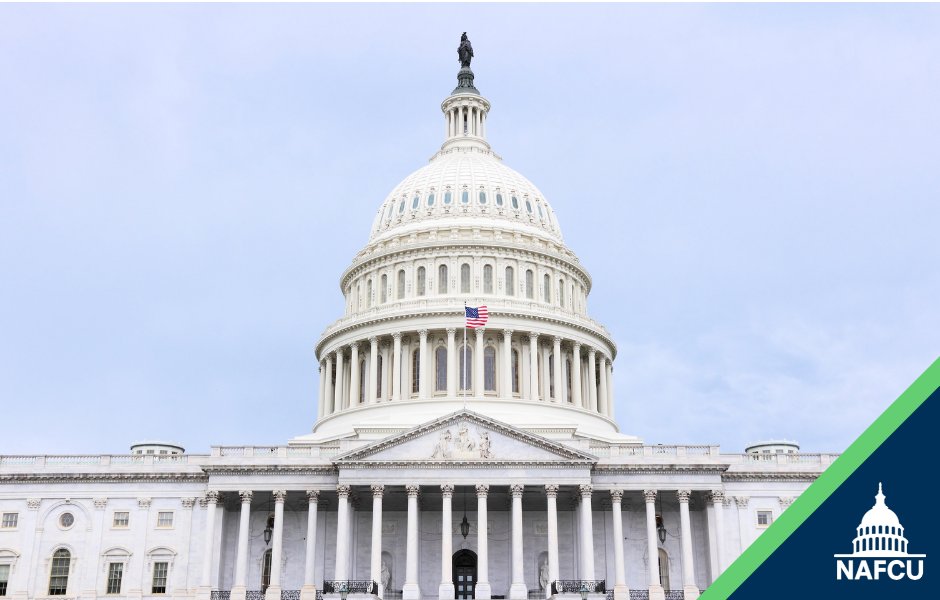 NAFCU's widely read NAFCU Today is credit union leaders' go-to source for the latest on issues impacting the credit union industry. For those short on time, here's a roundup of this week's top need-to-know updates and resources.
Joining forces on crypto
The subcommittees for digital assets in the House Financial Services and House Agriculture held separate hearings Thursday to discuss regulatory gaps in the digital assets market. The two subcommittee chairs, Rep. French Hill, R-Ark., in Financial Services and Rep. Dusty Johnson, R-S.D., in Agriculture, both acknowledged the others hearing and spoke on the need to develop legislation for a comprehensive crypto market structure. Lawmakers agree that digital assets need regulatory clarity, but there is no consensus yet as to which products fall under the Securities and Exchange Commission (SEC) – under financial services' oversight – and the Commodity Futures Trading Commission (CFTC) – overseen by agriculture.
During Thursday's hearings, lawmakers reiterated the need to work together on a solution – including across party lines – as well as for smart regulation that promotes innovation and encourages participation. NAFCU will continue to advocate for a clear regulatory framework that ensures a level playing field for credit unions, supports innovations, and protects consumers and the financial system.
Happening elsewhere on the Hill…
NAFCU monitored several other hearings on Capitol Hill this week that covered credit union issues. Wednesday, the Senate Small Business Committee held an oversight hearing on the Small Business Administration's (SBA) implementation of recently finalized rules to change governing regulations of its 7(a) and 504 loan programs, and allow new licensing for small business lending companies (SBLCs), which could include fintechs. Lawmakers echoed many of NAFCU's concerns during the hearing, especially that the SBA did not seem to take any comments into account when finalizing the rules.
During Thursday's Senate Banking Committee oversight hearing of credit reporting agencies, lawmakers and leaders from Equifax, Experian, and TransUnion discussed improving access to consumers who are "credit invisible." NAFCU shared with the committee its support for improving the credit scoring system and using alternative models to more accurately capture creditworthy borrowers. The association also warned against blanket suppression of negative credit information; some lawmakers on the panel expressed concerns about medical debt being included on credit reports.
In a House Energy & Commerce subcommittee hearing on data privacy, lawmakers discussed the need to fill gaps within the current privacy framework by passing a national law. Many also shared concerns about how much of consumers' data is collected by companies, and the importance of federal preemption over state laws to ensure clarity.  NAFCU shared its data privacy principles with lawmakers ahead of the hearing.
A roundup of additional issues NAFCU's advocacy team is watching can be found in NAFCU Today.
CFPB targets "zombie" mortgages
As the CFPB continues its campaign to warn consumers about "zombie debt" – old debt that has likely fallen off a credit report, consumers think has been paid or just forgotten about – the bureau this week issued guidance related to mortgage loans as some debt collectors are attempting to foreclose on silent second mortgages.
The advisory opinion clarifies that a covered debt collector who brings or threatens to bring a state court foreclosure action to collect a time-barred mortgage debt, whose statute of limitations has expired, may violate the Fair Debt Collection Practices Act and its implementing regulation.
With this guidance, the CFPB is focusing on "piggyback" mortgages. Generally, this piggyback mortgage product, known as an 80/20 loan, involved a first lien loan for 80 percent of the value of the home and a second lien loan for the remaining 20 percent of the home's valuation. Lenders did not pursue homeowners on second mortgages, instead selling off these mortgages to debt collectors for pennies on the dollar.
The bureau in December 2020 finalized a rule that prohibited collectors from suing or threatening to sue a consumer to collect time-barred debt.
Home prices rise in February after 7 months of decline
The S&P CoreLogic Case-Shiller National Home Price Index, which measures home prices across the nation, rose 0.2 percent in February from January on a seasonally-adjusted basis – the first increase since June 2022. February's year-over-year index increase was only 2 percent, the smallest since July 2012 and down from January's 3.7 percent annual rate jump.
New home sales "soared" in March – increasing 9.6 percent. NAFCU Chief Economist and Vice President of Research Curt Long noted "[s]upply is in better condition in the new home market than in existing homes, and the former is helping to sop up some of the housing demand that the resale market is unable to meet." For more economic updates from NAFCU's award-winning research team, view NAFCU's Macro Data Flash reports.
Nominations open for CU awards
Credit Union Times opened nominations for its 2023 LUMINARIES Awards to recognize people and organizations for outstanding contributions to the credit union industry. The awards are open individuals, executives, credit unions, and organizations that support credit unions in four categories:
Product Innovation
Innovation in Technology
Executive Leadership
Community Impact
There is no cost to apply; the deadline to submit applications is June 20.
In addition, nominations for NAFCU's Annual Awards are open until May 12. The association will recognize individuals and member credit unions in two asset size ranges – those with up to $500 million in assets and those above $500 million – in four categories:
CEO of the Year
Professional of the Year
Volunteer of the Year
Credit Union of the Year
To submit a nomination, provide a 500-word narrative following the guidelines on the nomination form. Winners will be recognized during NAFCU's Congressional Caucus, Sept. 10-13 in Washington, D.C.
Related Resources
Add to Calendar 2023-11-30 09:00:00 2023-11-30 09:00:00 Safeguarding Credit Unions with Threat Intelligence Listen On: Key Takeaways: [1:01] What is threat intelligence, and why is it important to CUs? [2:14] What are threat intelligence feeds, and what role do they play in strengthening CUs? [4:41] Leveraging threat feeds and integrating intelligence into tools is crucial. [6:35] Learn what threat CUs should be most concerned about. [7:39] Phishing is ever-evolving, and user awareness is critical. [10:43] Learn how Defense Storm uses feeds to protect its customers. [13:28] Threat intelligence is not as complicated as some think; initiation can be easy through Slack, discussions, and a reporting culture. Web NAFCU digital@nafcu.org America/New_York public
preferred partner
DefenseStorm
Podcast
Consumer Lending
Blog Post
Add to Calendar 2023-11-28 09:00:00 2023-11-28 09:00:00 Growing Creatively & Innovatively in 2024 Listen On: Key Takeaways: [0:58] What can credit unions do to best prepare themselves for 2024? [2:12] Although he sees a glimmer of hope, Jack points out that the liquidity crisis and slow prepayment speeds hamper rapid recovery. [5:22] We discuss how credit unions seek low loan growth through member-centric strategies such as second mortgages and home improvement lending. [7:34] Credit unions are leveraging advancing technology for member-focused engagement. [9:31] How will technology continue to evolve and affect credit unions? [11:43] What role does AI play in innovative growth? [14:14] Credit unions adopt technology for efficiency, enabling staff to focus on personalized member interactions, especially with younger generations. [17:14] Closing thoughts, emphasizing competition against banks and fintech for younger generations. Web NAFCU digital@nafcu.org America/New_York public
Strategy & Growth, Consumer Lending
preferred partner
Allied Solutions
Podcast
---
Get daily updates.
Subscribe to NAFCU today.