March 30, 2023
Berger on Bloomberg TV: 'Something was missed' in bank failures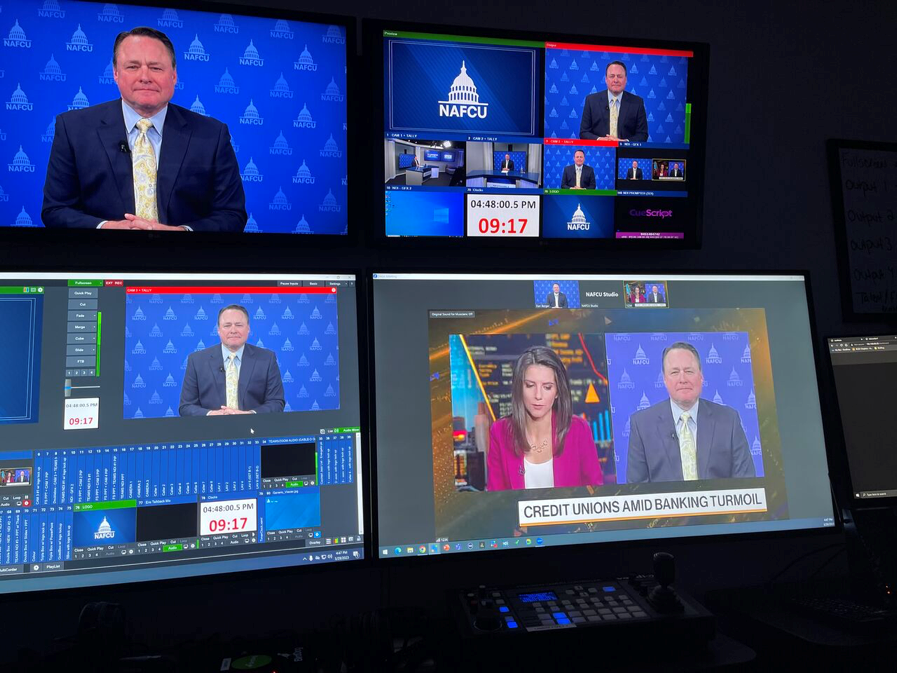 NAFCU President and CEO Dan Berger joined The Close on Bloomberg TV Wednesday to discuss recent bank failures, saying that they were the result of poor management across the board and adding that although the San Francisco Federal Reserve Bank cited Silicon Valley Bank for concerns in recent years, "something was missed in terms of the mitigation."
Berger told The Close hosts Scarlet Fu and Katie Greifeld that in the aftermath of the failures, there was a "flight to safety" to credit unions and other institutions, but these have started to settle down the farther we get from the collapses.
"The bottom line is the financial system of the United States is resilient and it is strong," Berger said.
Asked what he expects to see from a regulatory approach to address these issues, Berger said the banking regulators will likely do a deep-dive to determine what went wrong.
"I think Congress needs to be commended because they're looking to see what actually occurred before passing new laws or promulgating new regulations with prudential regulators. We have got to find out what exactly occurred, what was missed. Clearly there was poor bank management from the asset side as well as the risk side, but clearly the San Francisco Fed missed something in terms of mitigation because it was glaring. You can't have quadrupling of your uninsured assets in four or five years and not have that be a concentration risk."
Berger also joined Atlanta news station 11Alive this week to help explain how credit union deposits are insured and reiterate the industry's safety. During the segment, Berger said that accounts over the $250,000 deposit insurance limit are typically business accounts and added that 91 percent of credit union deposits are federally backed through the NCUA – a point he also reiterated on Bloomberg TV. He previously discussed the strength of the credit union industry on Wharton Business Daily SiriusXM.
Berger's interviews came amid congressional hearings this week on the bank failures with Federal Deposit Insurance Corporation (FDIC) Chair Martin Gruenberg, Federal Reserve Vice Chair of Supervision Michael Barr, and Treasury Department Undersecretary for Domestic Finance Nellie Liang.
During Wednesday's hearing before the House Financial Services Committee, lawmakers explored the banks' mismanagement, why the Fed decided to deem Silicon Valley Bank a systemically important institution, and whether it was deregulation or regulator failure to blame for the failures.
Most of the questioning focused on the timeline of events – including what regulators knew and when – and if they had the proper regulatory tools. Several members spoke about exempting community banks from the assessment the FDIC will need to replenish their deposit insurance fund, which is expected to take a roughly $20 billion hit from covering uninsured deposits at the failed banks.
NAFCU sent the House Financial Services Committee and Senate Banking Committee letters ahead of the hearings outlining points related to deposit insurance, liquidity, and more. The association also sent member credit unions an update on Washington's response to the failures last week; NAFCU has worked diligently to keep members informed of the situation since it began.
Stay tuned to NAFCU Today for the latest.
Related Resources
Board and Governance
Blog Post
Add to Calendar 2023-06-06 14:00:00 2023-06-06 14:00:00 Avoiding and Resolving Harassment Claims: A Primer for Board Members The #me-too movement may have receded from the front of public consciousness, but the need to prevent and resolve harassment claims remains a key function for any employer. As community-oriented organizations, credit unions more than most feel a responsibility for the well-being of their members, employees and volunteers. This webinar, Avoiding and Resolving Harassment Claims: A Primer for Board Members provides both an introduction to the subject for board members, as well as selected deep dives on particular issues of interest to credit union volunteer boards. Key Takeaways Learn to identify the hallmarks of a situation in which it is appropriate for the board to become involved, as opposed to permitting effective resolution through normal human resources procedures Recognize the breadth of current law governing harassment claims, including newly prominent protected categories, the nature and severity of conduct which may constitute harassment, and the fact that conduct that may not rise to the level of a state or federal law civil rights violation may still violate the credit union's own internal policies, procedures, and ideals, and be subject to appropriate discipline and remedial action Discover appropriate oversight roles for board officers, committee members including supervisory committee members, and other Board members, particularly in the context of passing along a report or complaint of harassment or inappropriate conduct   Register Now$295 Members | $395 Nonmembers (Additional $50 for USB)One registration gives your entire team access to the live webinar and on-demand recording until June 6, 2024.Go to the Online Training Center to access the webinar after purchase » Who Should Attend Board of director titles NCVEs and volunteer titles HR titles Education Credits NCVEs will receive 1.0 CEUs for participating in this webinar Web NAFCU digital@nafcu.org America/New_York public
Credits: NCVE
Webinar
Add to Calendar 2023-06-06 09:00:00 2023-06-06 09:00:00 Fighting Fraud: The Role of Fraud Fusion Centers Listen On: Key Takeaways: [00:56] The concept of a Fraud Fusion Center is a collaboration among professional fraud fighters. Anyone that has been doing this for a while forms a network of trusted advisors and we all go to each other anytime we come across some new or complex case.  [02:50] Scams have always been around but the emergence of AI has made them far more sophisticated than we have ever seen before.  [05:55] Person-to-person payment apps like Zelle, Venmo, and CashApp are not protected like debit and credit cards.  [08:30] Every single time that new technology comes out that makes our lives better, fraudsters will find a way to exploit it. The current state of cyber fraud points credit unions in a lose-lose situation.  [20:04] By identifying the information at one credit union and getting it out to others they are getting ahead of these threats.  [22:19] Fraud Fusion Centers are critical. Formalize it and make it happen. Web NAFCU digital@nafcu.org America/New_York public
Security, Fraud, Risk Management
preferred partner
DefenseStorm
Podcast
Board and Governance
Blog Post
---
Get daily updates.
Subscribe to NAFCU today.