February 16, 2023
Berger meets with NCUA's Hood on key issues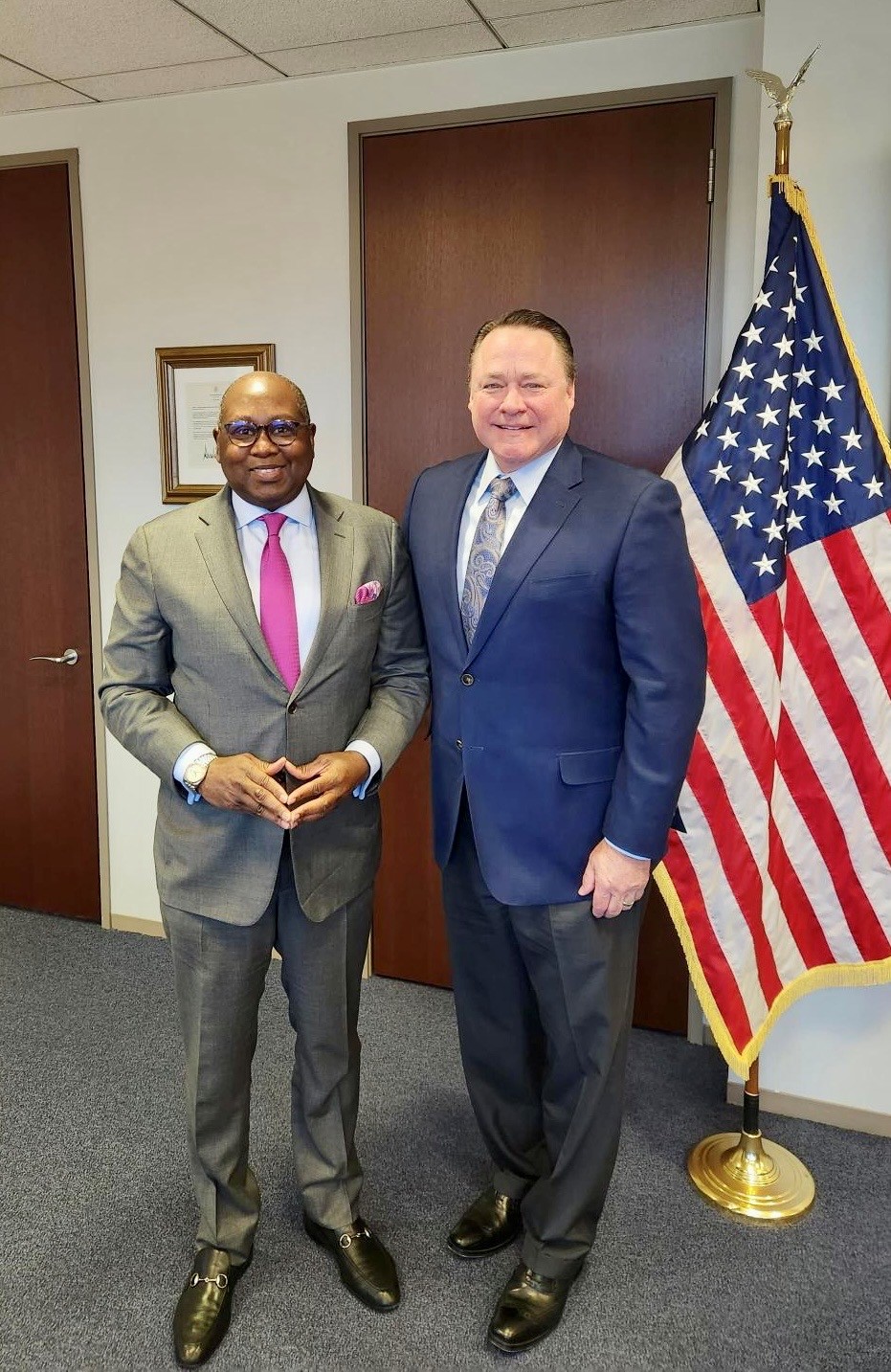 NAFCU President and CEO Dan Berger Wednesday held a meeting with NCUA Board Member Rodney Hood to discuss multiple topics of interest to credit unions ahead of the agency's board meeting today.
NAFCU Senior Vice President of Government Affairs Greg Mesack, Vice President of Regulatory Affairs Ann Petros, Chief Economist and Vice President of Research Curt Long, and Regulatory Affairs Counsel Dale Baker also attended the meeting.
During the meeting, attendees discussed the interest rate ceiling – which the NCUA voted to keep at 18 percent for another 18 months during the agency's last board meeting. NAFCU has consistently advocated for a floating permissible interest rate ceiling to address constraints of the 15 percent ceiling set by the Federal Credit Union Act. The association also recommended the NCUA establish a 21 percent interest rate ceiling to allow credit unions to remain a better alternative to banks and fintech lenders considering the current federal funds rate environment in a recent letter to the NCUA.
The group also reviewed NCUA's proposed rule on financial innovation. The rule would amend the agency's loan participation and eligible obligation regulations by offering flexibility for federally-insured credit unions to engage in indirect lending arrangements with fintechs and other third parties. Of note, NAFCU sent members a Regulatory Alert breaking down the proposal.
NAFCU also flagged its advocacy for the agency to amend the definition of "commercial loan" and raise the threshold for net aggregate business loans excluded from the definition of a commercial loan to better support small businesses, as well as the need to reform chartering and field of membership requirements. The association has backed previous legislation that would allow all types of credit unions to expand their field of membership into underserved areas, while also broadening the definition of "underserved area" to include anywhere not within ten miles of the nearest financial institution.
NAFCU will continue to work closely with the NCUA to ensure that credit unions have the necessary resources and guidance to effectively serve their 134 million members. 
Related Resources
Add to Calendar 2023-11-30 09:00:00 2023-11-30 09:00:00 Safeguarding Credit Unions with Threat Intelligence Listen On: Key Takeaways: [1:01] What is threat intelligence, and why is it important to CUs? [2:14] What are threat intelligence feeds, and what role do they play in strengthening CUs? [4:41] Leveraging threat feeds and integrating intelligence into tools is crucial. [6:35] Learn what threat CUs should be most concerned about. [7:39] Phishing is ever-evolving, and user awareness is critical. [10:43] Learn how Defense Storm uses feeds to protect its customers. [13:28] Threat intelligence is not as complicated as some think; initiation can be easy through Slack, discussions, and a reporting culture. Web NAFCU digital@nafcu.org America/New_York public
preferred partner
DefenseStorm
Podcast
Consumer Lending
Blog Post
Add to Calendar 2023-11-28 09:00:00 2023-11-28 09:00:00 Growing Creatively & Innovatively in 2024 Listen On: Key Takeaways: [0:58] What can credit unions do to best prepare themselves for 2024? [2:12] Although he sees a glimmer of hope, Jack points out that the liquidity crisis and slow prepayment speeds hamper rapid recovery. [5:22] We discuss how credit unions seek low loan growth through member-centric strategies such as second mortgages and home improvement lending. [7:34] Credit unions are leveraging advancing technology for member-focused engagement. [9:31] How will technology continue to evolve and affect credit unions? [11:43] What role does AI play in innovative growth? [14:14] Credit unions adopt technology for efficiency, enabling staff to focus on personalized member interactions, especially with younger generations. [17:14] Closing thoughts, emphasizing competition against banks and fintech for younger generations. Web NAFCU digital@nafcu.org America/New_York public
Strategy & Growth, Consumer Lending
preferred partner
Allied Solutions
Podcast
---
Get daily updates.
Subscribe to NAFCU today.