May 18, 2018
Berger, Rep. Poe, on the Hill, discuss ongoing ADA concerns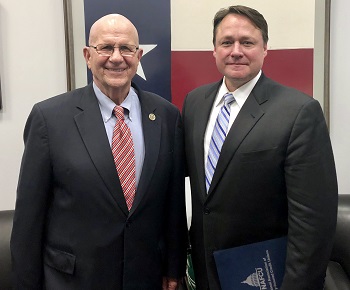 NAFCU President and CEO Dan Berger met this week with Rep. Ted Poe, R-Texas, to discuss the ongoing issue of credit unions being targeted by lawsuits related to unclear website accessibility requirements under the Americans with Disabilities Act (ADA). NAFCU has worked closely with Poe to get relief on website accessibility demand letters.
NAFCU-backed legislation, sponsored by Poe and House Judiciary Committee Chairman Bob Goodlatte, R-Va., passed the House in February. The ADA Education and Reform Act (H.R. 620) would set conditions for filing civil actions over the failure to remove an architectural barrier to an existing public place by giving businesses time to come into compliance before a lawsuit can proceed, among other things. Ahead of passage, lawmakers on the House floor clarified their intentions to address websites in the bill following NAFCU-led efforts.
"We appreciate Rep. Poe taking the time to meet and discuss the ongoing problem with ADA-related lawsuits targeting credit unions," Berger said. "NAFCU and our members thank him for listening and hearing the industry's concerns over unclear guidance under the ADA."
NAFCU and its members strongly support the protections of the ADA and efforts to ensure individuals with disabilities are not discriminated against and have equal access to financial services. However, this is best achieved through clear guidance and standards for website compliance, not through meritless and costly lawsuits.
NAFCU has been active on this issue since last fall and began filing amicus briefs to support credit unions targeted by ADA website accessibility litigation in December. So far, five of the lawsuits in which NAFCU has filed an amicus brief have been dismissed.
To date, credit unions in at least 25 states have been targeted with demand letters on this issue.
The association has also attended multiple hearings to support credit unions defending lawsuits and continues to engage with various stakeholders on the issue, including Congress, states' attorneys general and the Justice Department to clarify regulatory standards for websites.
Reps. Ted Budd, R-N.C., and Lou Correa, D-Calif., are urging the Department of Justice (DOJ) to resolve the issue as soon as possible by circulating a letter asking for support from other members of House that will be sent to U.S. Attorney General Jeff Sessions. NAFCU encourages credit unions to contact their representatives and request that they sign onto the letter; members' contact information can be found through NAFCU's Grassroots Action Center.
Get daily updates.
Subscribe to NAFCU today.