August 11, 2021
Bid to strike IRS reporting requirement for FIs from Senate budget resolution falls short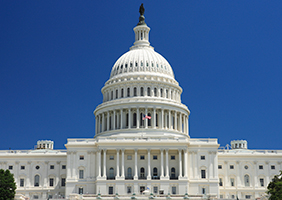 The Senate on Tuesday rejected, by a 49-50 vote, a NAFCU-backed amendment from Senate Finance Committee Ranking Member Mike Crapo, R-Idaho, to block the burdensome tax reporting requirement on financial institutions included in the Senate's fiscal year 2022 Budget Resolution. Since the inclusion of the reporting requirement in the Administration's FY22 proposed budget request, NAFCU has engaged with lawmakers to strongly advocate against it; Crapo cited NAFCU's advocacy on this issue in the amendment's announcement.
The budget resolution includes the Biden Administration's proposal requiring financial institutions to report to the IRS on the annual inflows and outflows over $600 of all business and personal accounts, as well as transfers between accounts of the same owner.
NAFCU Vice President of Legislative Affairs Brad Thaler wrote to Sen. Crapo yesterday to thank him for introducing the amendment and reiterate the association's support for the removal of the reporting requirement.
"We agree that requiring credit unions and other financial institutions to report on gross inflows and outflows for all accounts above $600 is a misguided proposal that stands to pose more harm and burdens on community institutions with uncertain returns," wrote Thaler. "Such a reporting requirement also raises privacy concerns for credit unions and their members.
"While we support efforts increase taxpayer compliance, we do not believe adding untested reporting requirements to an already heavily regulated industry is the answer," added Thaler.
The Senate yesterday did adopt an amendment from Senate Finance Committee Chairman Ron Wyden, D-Ore., that would change the specific $600 threshold to "large" amounts; however, the amendment gives the IRS and Treasury Department the authority to determine what the "large" threshold amount to establish the reporting requirement is.
The Senate is working to clear the FY 2022 Budget Resolution this week. The resolution and amendments are not binding in law, but serve as the basis for crafting future legislation.  Of note, the Senate cleared the bipartisan infrastructure deal earlier on Tuesday.
NAFCU will continue to monitor efforts related to this tax proposal and advocate against any provisions that would increase credit unions' compliance and reporting burdens.
Related Resources
Accounts Operations Consumer Lending
Blog Post
Credit Unions, Board of Directors, Web/Tech, Organizational Change, Merger
preferred partner
DDJ Myers
Blog Post
---
Get daily updates.
Subscribe to NAFCU today.