April 20, 2020
Bipartisan MBL relief bill introduced in House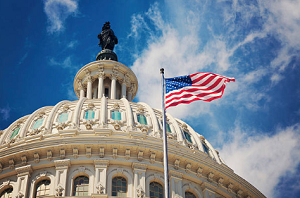 Rep. Brad Sherman, D-Calif., officially introduced legislation Friday that would provide a three-year exemption from the credit union member business lending (MBL) cap for loans made to small businesses as they recover from coronavirus national emergency.
The bill was announced earlier in the week as Sherman circulated the bill text among the House seeking cosponsors. NAFCU President and CEO Dan Berger offered the association's support in response to its announcement.
"We thank Representatives Brad Sherman (D-Calif.), Suzanne Bonamici (D-Ore.), Don Young (R-Alaska), and Brian Fitzpatrick (R-Pa.) for working with NAFCU and standing with credit unions that are looking to help small businesses and local communities overcome the financial impact of the coronavirus," Berger said. "This legislation will go a long way toward ensuring more loans and capital reach those in need, and NAFCU stands to advocate for its passage during these uncertain economic times."
Sixteen members – representing both parties – ultimately signed on as cosponsors prior to its introduction.
The bill would exclude any MBLs that are extended within the three-year period beginning March 13, 2020, of which the proceeds are used to aid a small business in the recovery from coronavirus pandemic. It would require the NCUA to issue implementing regulations that ensure a credit union's safety and soundness is not impacted by the loans.
NAFCU and credit unions last week also launched a grassroots advocacy campaign to round up support for another MBL relief-related effort. That advocacy led to 65 members of Congress calling for the next coronavirus relief package to either remove or increase the MBL cap to ensure credit unions can lend to small businesses in need.
NAFCU has long sought relief for credit unions from the arbitrary MBL cap and, amid the coronavirus pandemic, has urged Congress to amend the Federal Credit Union Act to provide credit unions with greater flexibility and relief from the MBL cap so they can increase access to lending to the nation's small businesses that are in need.
Stay tuned to NAFCU Today for updates on MBL relief efforts.
Related Resources
Business Lending
Blog Post
Business Lending
Blog Post
---
Get daily updates.
Subscribe to NAFCU today.