November 22, 2019
CECL, cybersecurity, more discussed in NAFCU Board meeting with Fed's Bowman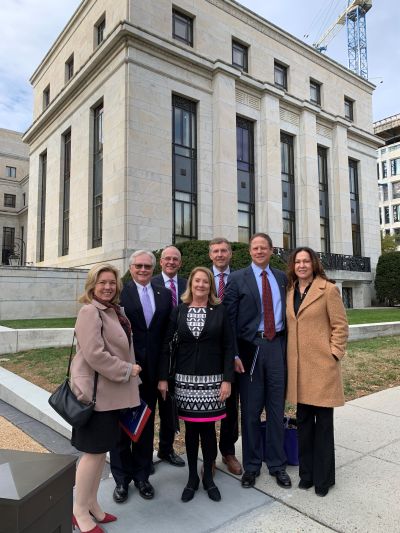 The NAFCU Board of Directors met Thursday at the Federal Reserve with Board Governor Michelle Bowman to review various economic and regulatory trends affecting credit unions. The meeting, which NAFCU holds annually at the Fed, coincides with the association's release of its Report on Credit Unions – now available for download.
NAFCU Board Chair Jeanne Kucey, president and CEO of JetStream Federal Credit Union in Miami Lakes, Fla., provided Bowman with insights into the credit union industry, including the size of institutions and proclivity to serve those in underserved areas. Kucey also shared stories about helping members in Puerto Rico recover from recent hurricanes and the success of JetStream's microbusiness lending program to support local entrepreneurs.
NAFCU Board Member Jan Roche, president and CEO of State Department Federal Credit Union in Alexandria, Va., gave an update on the industry financial trends and noted that most credit union mergers are a result of small institutions not being able to handle compliance costs. Board Treasurer Tom DeWitt, president and CEO of State Farm Federal Credit Union in Bloomington, Ill., shared NAFCU's advocacy priorities with Bowman, including specific recommendations to modernize regulations and reduce fraud.
Vice Chair Debra Schwartz, president and CEO of Mission Federal Credit Union in San Diego, Calif., led a portion of the discussion focused on cybersecurity and how credit unions' associated costs are increasing significantly as they do more testing, hire more staff, and update software. In addition, board members shared how their members – and institutions as a whole – are impacted by retail data breaches, including the cost to replace cards and potential reputational damage.
Also during the meeting, the credit union leaders explained how the current expected credit loss (CECL) standard – despite its delay – will likely have a negative impact on credit unions' ability to lend and increase compliance costs.
NAFCU Board Members Lonnie Nicholson, president and CEO of EECU in Fort Worth, Texas, Brian Schools, president and CEO of Chartway Federal Credit Union in Virginia Beach, Va., and Keith Sultemeier, president and CEO of Kinecta Federal Credit Union in Manhattan Beach, Calif., also participated in the conversation with Bowman, sharing their credit unions' unique perspectives on the issues.
Senior NAFCU staff, including President and CEO Dan Berger, Executive Vice President of Government Affairs and General Counsel Carrie Hunt, and Chief Economist and Vice President of Research Curt Long, and Federal Reserve staff also attended Thursday's meeting.
Related Resources
---
Get daily updates.
Subscribe to NAFCU today.