April 01, 2020
CUs: Access tips for cleaner payments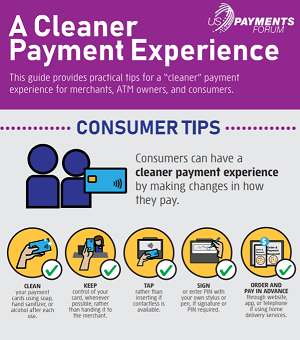 As Americans shift their focus to exercising careful hygiene practices due to the coronavirus pandemic, the U.S. Payments Forum has released new resources outlining practical tips for a "cleaner" payment experience for merchants, ATM owners, and consumers.
In Tips for a Cleaner Payment Experience, merchant and ATM owners are encouraged to clean and disinfect payment terminals frequently, as well as:
provide sanitizing options for consumers to utilize in store;

allow consumers to insert or tap their own card when possible; and

skip consumer signature for payments where chip is accepted.
The publication also recommends using a cloth or wipe to avoid spraying any product directly onto the terminal and eliminate the use of aerosol sprays to prevent moisture from getting into any openings or slots.
For more information, view the resource PDF and infographic.
NAFCU has a number of resources available related to the coronavirus, including FAQs, a summary table or regulator actions, and an economic brief, to help credit unions stay informed of the latest developments and address concerns.
Related Resources
Add to Calendar 2023-11-30 09:00:00 2023-11-30 09:00:00 Safeguarding Credit Unions with Threat Intelligence Listen On: Key Takeaways: [1:01] What is threat intelligence, and why is it important to CUs? [2:14] What are threat intelligence feeds, and what role do they play in strengthening CUs? [4:41] Leveraging threat feeds and integrating intelligence into tools is crucial. [6:35] Learn what threat CUs should be most concerned about. [7:39] Phishing is ever-evolving, and user awareness is critical. [10:43] Learn how Defense Storm uses feeds to protect its customers. [13:28] Threat intelligence is not as complicated as some think; initiation can be easy through Slack, discussions, and a reporting culture. Web NAFCU digital@nafcu.org America/New_York public
preferred partner
DefenseStorm
Podcast
Consumer Lending
Blog Post
Add to Calendar 2023-11-28 09:00:00 2023-11-28 09:00:00 Growing Creatively & Innovatively in 2024 Listen On: Key Takeaways: [0:58] What can credit unions do to best prepare themselves for 2024? [2:12] Although he sees a glimmer of hope, Jack points out that the liquidity crisis and slow prepayment speeds hamper rapid recovery. [5:22] We discuss how credit unions seek low loan growth through member-centric strategies such as second mortgages and home improvement lending. [7:34] Credit unions are leveraging advancing technology for member-focused engagement. [9:31] How will technology continue to evolve and affect credit unions? [11:43] What role does AI play in innovative growth? [14:14] Credit unions adopt technology for efficiency, enabling staff to focus on personalized member interactions, especially with younger generations. [17:14] Closing thoughts, emphasizing competition against banks and fintech for younger generations. Web NAFCU digital@nafcu.org America/New_York public
Strategy & Growth, Consumer Lending
preferred partner
Allied Solutions
Podcast
---
Get daily updates.
Subscribe to NAFCU today.