May 14, 2019
CUs, NAFCU meet with regulators on payday lending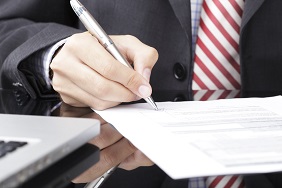 NAFCU met with the CFPB and NCUA yesterday to discuss issues related to payday lending, including the bureau's proposal to delay and change some requirements of its payday lending rule and credit unions' payday alternative loans (PALs) programs. NAFCU's advocacy efforts led the bureau to take into account credit unions' concerns in the final 2017 rule and create a safe harbor for PALs.
NAFCU Director of Regulatory Affairs Ann Kossachev and Regulatory Affairs Counsel Kaley Schafer were joined by member credit unions at both meetings.
Earlier this year, the bureau issued proposals to remove the payday lending rule's mandatory underwriting requirements, including ability-to-repay (ATR) provisions, and delay those provisions' implementation date by 15 months. NAFCU offered its support of a delay as it would allow the bureau more time to expand the rule's PALs safe harbor.
The NCUA is expected to issue a final rule this year that would provide federal credit unions with additional options under PALs. NAFCU has recommended the NCUA allow even more flexible parameters than what the agency proposed and continues to urge the bureau to expand the safe harbor to all future iterations of PALs. By doing so, credit unions will be more likely to adopt PALs programs and consumers will have greater access to safe, short-term, small-dollar loans.
NAFCU will continue to engage with the bureau and NCUA as they consider changes that will impact credit unions' abilities to offer these types of loans.
Related Resources
Add to Calendar 2020-09-24 11:00:00 2020-09-24 11:00:00 Diversify Your Portfolio with Student Loan Refinancing and Participations About The Webinar Join us for a conversation with 2 credit union leaders from Member Student Lending (CUSO) on how student loan refinancing opens doors to younger prime borrowers while mitigating risk through modern loan participations. Hundreds of credit unions are tapping into these real-time participation programs to grow their membership base and extend the lifetime value of their member relationships. Join the webinar to hear from credit unions currently active in student loan participation lending: The myths and benefits of student loan refinancing  How modern loan participations work  Examples of the lifetime value of student lending   And find out how you can mitigate risk through modern loan participations while attracting new Gen-Z and Millennials to your credit union for a potential lifetime of lending.   Watch the Webinar On-Demand Web NAFCU digital@nafcu.org America/New_York public
preferred partner
LendKey
Webinar
Fraud, NCUA, Credit Unions, Compliance, Risk Management
preferred partner
Allied Solutions
Blog Post
---
Get daily updates.
Subscribe to NAFCU today.