September 07, 2018
CUs see secondary mortgage market protections in new housing plan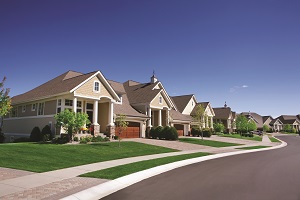 A new housing finance reform discussion draft – unveiled Thursday by House Financial Services Committee Chairman Jeb Hensarling, R-Texas, and Rep. John Delaney, D-Md. – would preserve a NAFCU-sought government guarantee to the secondary mortgage market and create more lending opportunities for small lenders.
"We support the overarching goal of Chairman Hensarling and Rep. Delaney's GSE reform draft to create a level playing field in the single-family mortgage market," said NAFCU President and CEO Dan Berger. "As Congress gears up for housing finance reform and considers this legislation and other approaches, it is important that vibrant competition remains throughout the system and that credit unions maintain unfettered access to the secondary mortgage market and fair pricing based on loan quality, not quantity."
The draft bill, the Bipartisan Housing Finance Reform Act, would repeal the government-sponsored enterprises' (GSEs) charters and would instead use Ginnie Mae as the provider of the explicit government guarantee on mortgage-backed securities (MBS). Currently, Ginnie Mae backs payments of principal and interest to those that invest in the Federal Housing Administration and other government-insured loans.
In comments during a committee hearing yesterday on the future of the GSEs, Hensarling said he believes the plan "will preserve much of what is demanded in the current system: liquidity, the TBA market, and the 30-year pre-payable fixed mortgage. And it will do so while dispersing risk and leveling the playing field for all entrants into mortgage finance."
In a letter to the committee Wednesday, NAFCU Executive Vice President of Government Affairs and General Counsel Carrie Hunt reiterated credit unions' needs for unfettered access to the secondary mortgage market and fair pricing based on loan quality, not quantity. These qualifications, along with an explicit government guarantee on the payment of principal and interest on mortgage-backed securities, are included in NAFCU's housing finance reform principles, which committee members have received.
NAFCU continues to analyze the plan, noting that the draft bill:
requires a risk-based capital framework for new "private credit enhancers" (new GSEs) similar to the Federal Housing Finance Agency's (FHFA) proposed capital requirements rule currently out for comment;
expands the existing credit risk transfer initiative and allows the Common Securitization Platform to be used by all issuers of MBS;
maintains a cash window for small lenders, which is strongly supported by NAFCU as it allows lenders to sell their loans to the secondary mortgage market directly in exchange for cash; and
authorizes Ginnie Mae to approve a Federal Home Loan Bank as an issuer of MBS; something NAFCU has encouraged the FHFA to allow.
Related Resources
---
Get daily updates.
Subscribe to NAFCU today.