January 07, 2021
Democrats poised to take control of Senate following Georgia runoffs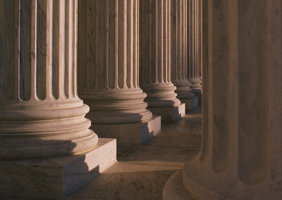 Democrats Raphael Warnock and Jon Ossoff Wednesday were declared winners in the runoff elections for Georgia's two Senate seats, defeating Republican Sen. Kelly Loeffler in a special election for a term that ends Jan. 3, 2023, and incumbent Republican Sen. David Perdue, respectively.
Also Wednesday, the House and Senate convened for a joint session to count electoral votes to certify President-elect Joe Biden's win. However, both chambers recessed just over an hour into the proceedings when the Capitol was breached. Congress reconvened Wednesday evening to finish the certification.
NAFCU President and CEO Dan Berger responded to the violence, saying that "NAFCU believes in the Constitution and tolerance, and the violent chaos on Capitol Hill is attacking the foundations of our democracy. This is a sad moment for our country; NAFCU is committed to bringing about changes for a brighter future."
In response to the runoff results, Berger released a statement congratulating Warnock and Ossoff.
"NAFCU congratulates Senator-elect Jon Ossoff and Senator-elect Raphael Warnock on their wins in the Georgia runoff races," said Berger. "With Democratic control in both chambers of Congress, NAFCU is committed to continuing to work with leadership in a bipartisan manner to advance the interests of credit unions and their 123 million members. To accomplish this, there are many areas where policymakers should be able to find agreement, including increased CDFI funding, member business lending reform, and allowing credit unions to include underserved communities within their field of memberships, among other important reforms."
Either Loeffler or Perdue would have needed to win their race for Republicans to retain control of the Senate in the 117th Congress. As the party split in the Senate is now 50-50, Democrats will take control Jan. 20 after Vice President-elect Kamala Harris is sworn in and will serve as the tiebreaking vote.
Control of the Senate influences which legislation the chamber considers, as well as chairs of committees. Sen. Sherrod Brown, D-Ohio, with whom NAFCU and member credit unions met with in December, is expected to chair the Senate Banking Committee, which deals with several issues that impact credit unions.
As a bipartisan organization, NAFCU works closely with members on both sides of the aisle. The association will continue to build its strong relationships on Capitol Hill to advance credit union priorities and achieve a legislative and regulatory environment in which the industry can thrive.
Related Resources
Examination & Enforcement
Blog Post
Add to Calendar 2021-10-14 14:00:00 2021-10-14 14:00:00 Secure Cloud Adoption: How to Build a Roadmap for Secure Cloud Journey About the Webinar Cloud, digital, and new business models are disrupting many industries including financial institutions. Innovative credit unions are adopting cloud to enable their digital transformation. This will ensure long term cost effectiveness of delivering routine services to members while at the same time introducing new offerings in a seamless, secure manner. This webinar will cover strategies on how your CU can plan and implement a cloud roadmap that supports your current and future initiatives in digital innovation. Key takeaways: Driving business outcomes with Cloud as an enabler  Cloud roadmap – Organizational & technical considerations Security, automation, and cost-effective approach to implementation Watch the Webinar Web NAFCU digital@nafcu.org America/New_York public
preferred partner
Persistent Systems
Webinar
---
Get daily updates.
Subscribe to NAFCU today.