January 04, 2021
NAFCU preps bold advocacy agenda for 2021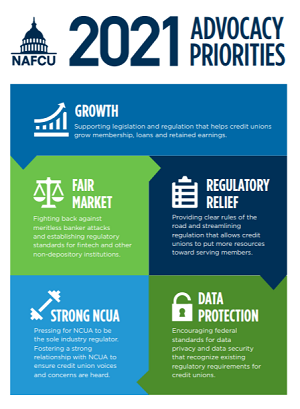 As the 117th Congress gets underway and the Biden administration prepares to transition into the White House, NAFCU has launched its 2021 legislative and regulatory priorities to achieve an operating environment in which credit unions – and their 123 million members – can thrive.
"Credit unions have worked tirelessly to help Americans overcome adversity and hardship amid the coronavirus pandemic," said NAFCU President and CEO Dan Berger. "For both new and returning members of Congress, it is vital they understand the good work not-for-profit credit unions have done and will continue to do to lift American families and communities up during these uncertain times.
"We look forward to working with lawmakers on Capitol Hill as well as the Biden Administration to make sure credit unions have a strong seat at the table, and that they are empowered to help our nation and our economy fully recover. It is our mission to deliver this message to policymakers in 2021 and beyond."
The 117th Congress was sworn in yesterday, and President-elect Joe Biden's inauguration is set for Jan. 20. In a letter sent yesterday, Berger shared these priorities with congressional leadership and members of the House and Senate.
NAFCU's award-winning advocacy team also started its activity with the 117th Congress and Capitol Hill, welcoming new members and sharing the priorities with lawmakers and their staff to keep credit union issues top of mind. 
After tallying a series of wins last year, NAFCU will continue to build upon its five tenets, with priorities encompassing:
Growth

: Supporting legislation and regulation that helps credit unions grow membership, loans and retained earnings.

Fair and Innovative Market

: Fighting back against banker attacks and establishing regulatory standards for fintech and other non-depository institutions.

Regulatory Relief

: Providing clear rules of the road and streamlining regulation that allows credit unions to put more resources towards serving members. 

Strong NCUA

: Pressing for the NCUA to be the sole industry regulator and fostering a strong relationship with the agency to ensure credit unions' voices and concerns are heard. 

Data Protection:

 Encouraging federal standards for data privacy and data security that recognize existing regulatory requirements for credit unions.  
NAFCU will remain personally invested in credit unions' growth and success by providing members with exceptional advocacy and member service, as well as access to the resources and connections needed to keep growing.
Related Resources
Add to Calendar 2021-10-19 14:00:00 2021-10-19 14:00:00 Consumer Survey Report - Insurance Today and Opportunity for CUs About the Webinar Franklin Madison examined survey responses from more than 500 consumers to understand their purchasing behaviors and attitudes towards insurance. This webinar will highlight how various demographics view insurance and what motivates them in the purchasing process. You will learn which demographic groups are most interested in their credit union to purchase insurance. You will also learn how your members  view insurance as part of an overall financial wellness plan. Finally, you will discover an untapped opportunity to provide valuable offerings to your members to help with financial security. Watch the Webinar On-Demand Web NAFCU digital@nafcu.org America/New_York public
preferred partner
Franklin Madison
Webinar
Add to Calendar 2021-10-19 14:00:00 2021-10-19 14:00:00 Evolving Fraud Detection Beyond Traditional Rules-Based Approaches Rules-based fraud detection and manual threat review cannot keep up with emerging threats that are becoming more sophisticated. In this webinar, we will discuss common threats, as well as how technology like machine learning can be used to combat these. Key Takeaways Understand the evolving fraud threats credit unions are facing every day. Learn how human capital needs to be combined with technology to manage evolving fraud threats. Take a look at the role machine learning plays in keeping credit unions proactive in their security and fraud posture. Register Now$295 Members | $395 Nonmembers (Additional $50 for CD)One registration gives your entire team access to the live webinar and on-demand recording until October 15, 2022.Go to the Online Training Center to access the webinar after purchase » Who Should Attend? NAFCU Certified Compliance Officers (NCCOs) NAFCU Certified Risk Managers (NCRMS) NAFCU Certified Bank Secrecy Officers (NCBSOs) Chief Executive Officers Chief Financial Officers Compliance, risk, and BSA titles Education Credits NCRMs will receive 1.0 CEUs for participating in this webinar NCCOs will receive 1.0 CEUs for participating in this webinar NCBSOs will receive 1.0 CEUs for participating in this webinar About Our Webinars Our webinars are streamed live from NAFCU headquarters near Washington, D.C. Your audio/video feed of the presenters includes presentation slides and downloadable handouts. You can easily submit your questions to the presenters at any time during the live broadcast, with no dialing over the phone! The audio and video stream directly through your computer. Web NAFCU digital@nafcu.org America/New_York public
Credits: NCRM, NCCO, NCBSO
Webinar
---
Get daily updates.
Subscribe to NAFCU today.