December 30, 2020
NAFCU's advocacy achieves success for CUs amid unprecedented year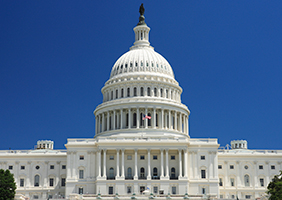 NAFCU's commitment to securing regulatory relief and flexibility for credit unions became even more important this year as the industry faced countless operational challenges stemming from the coronavirus pandemic. The association's bold advocacy strategy secured several key wins throughout 2020 to ensure credit unions and their 123 million members' needs were addressed amid the pandemic and beyond.
Here's a look at some of the key wins that came from NAFCU's efforts:
The Small Business Administration's paycheck protection program (PPP)
NAFCU ensured the paycheck protection program (PPP) included credit unions as lenders and secured set-aside funding to meet credit union members' small business loan needs. In addition, the recent Phase 4 coronavirus relief package included NAFCU-sought language to simplify the forgiveness process for loans under $150,000 and to provide protections for lenders, as well as $15 billion in set asides for small, community-based lenders, including credit unions with less than $10 million in assets.
The Phase 4 package also repeals the CARES Act provision that required PPP borrowers to deduct from their forgivable amount economic injury disaster loan (EIDL) advances, which NAFCU had raised concerns about. 
CECL
This year, legislation to heed NAFCU's long-standing call to eliminate the Financial Accounting Standards Board's (FASB) current expected credit loss (CECL) standard was introduced and NCUA Board Chairman Rodney Hood expressed support for an exemption for credit unions under the standard many times, arguing that its compliance costs outweigh its benefits. The association continues to work with both FASB and the NCUA to obtain relief for credit unions under CECL. Of note, the Phase 4 package further extends the optional, temporary relief from the CECL standard enacted under the CARES Act.
SCOTUS decisions
The U.S. Supreme Court declined to hear the lawsuit brought by the American Bankers Association (ABA) against the NCUA over the agency's 2016 field of membership (FOM) rule, putting an end to years of litigation. NAFCU stood by the NCUA throughout the lawsuit and is supportive of the agency's efforts to modernize FOM rules to ensure credit unions can effectively serve communities in need.
The Supreme Court also issued its decision in the lawsuit brought by Selia Law challenging the CFPB's single-director structure, determining that it is unconstitutional. NAFCU has long held that the CFPB's leadership structure should be reformed to a commission-based model to ensure transparency and accountability and supported legislative efforts to do so. The association has also supported calls to subject the bureau to congressional appropriations oversight.
Regulation D
The Federal Reserve earlier this year issued an interim final rule to amend Regulation D and remove the six-per-month transaction limit on transferring between savings and checking accounts. The association had previously recommended that the transfer limit be eliminated and, earlier this year, NAFCU President and CEO Dan Berger asked the Fed to remove it to provide credit unions with relief amid the coronavirus pandemic.
Housing finance reform
A leader in advocating for housing finance reform, NAFCU obtained a four-month limit from the Federal Housing Finance Agency (FHFA) on the number of principal and interest payments credit unions must cover on behalf of their borrowers in forbearance for government-backed mortgage loan
In addition, the Phase 4 coronavirus relief and fiscal year 2021 funding omnibus package included several other NAFCU-sought extensions to provisions that provide additional support for credit unions:
Troubled debt restructuring:

Under the CARES Act, credit unions were granted NAFCU-sought flexibility to suspend the requirements to classify certain loan modifications as TDR and the flexibility has been extended through to Jan. 1, 2022, or 60 days after the coronavirus national emergency is terminated (whichever is earliest); and

Central Liquidity Facility (CLF):

The CARES Act allowed the NCUA to make temporary changes to the CLF in order to enhance credit unions' ability to access and use the facility; the NCUA in April issued an interim final rule to do so. NAFCU has advocated that changes made to the CLF are made permanent, however the Phase 4 package extends the flexibility provided to the NCUA through Dec. 31, 2021.
Throughout 2020, the association secured several high-profile meetings with lawmakers, regulators, and administration officials – both in person before the pandemic and virtually - to advocate credit unions' position on these issues and more. See more of NAFCU's 2020 accomplishments.
Related Resources
Add to Calendar 2021-04-15 09:00:00 2021-04-15 09:00:00 Attracting Younger Borrowers with Education Lending Listen On: Key Takeaways: [02:29] 66% of Gen Z are saying that they are worried about accumulating or not being able to pay off their student loan debt. More than 80% of respondents in that survey said they are going to attain at least a two-year degree.  [03:21] 67% of student loan borrowers took out at least one additional product with the credit union who they finance their student loan through. It is a great opportunity to not only attract but to continue to retain and grow those relationships. [10:07] Franklin Mint wanted to offer the program to prospective members so they did print advertising, online advertising, outdoor advertising, and Pandora. The first 7 months of the year they averaged 300-400 visits to their student loan page.  After the campaign, it went up to 1500-4000 visits.  Web NAFCU digital@nafcu.org America/New_York public
Consumer Lending, Student Loans, Credit Unions
preferred partner
LendKey
Podcast
Strategy, Marketing, Growth & Retention, Customer Engagement
preferred partner
CUNA Mutual Group
Blog Post
---
Get daily updates.
Subscribe to NAFCU today.