June 24, 2020
EXIM's work with CUs noted during hearing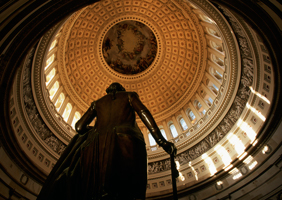 Export-Import Bank President Kimberly Reed Tuesday touted recent efforts with the credit union industry, including her recent conversation with NAFCU President and CEO Dan Berger, as the bank works to support the U.S. economy and connect small businesses to its programs.
Berger recently spoke with Reed on ways credit unions can participate in EXIM programs and lending opportunities to provide credit to member businesses involved in exports.
During Tuesday's hearing with the Senate Banking Committee, Reed acknowledged the important role credit unions play in supporting the nation's small businesses. She said the new Memorandum of Understanding (MOU) with the NCUA is part of the bank's focus to ensure the U.S. is competing on the global scale.
The MOU is the start of an educational campaign to ensure "credit unions know when they have one of their members go in and look for a small business loan and support that EXIM's resources are there," Reed said.
During the MOU signing ceremony earlier this month, NCUA Chairman Rodney Hood indicated that EXIM guaranteed loans are exempt from the credit union member business lending cap.
"Helping small businesses to gain access to capital is essential, and we can anticipate that this collaboration will be a great help to many hard-pressed entrepreneurs, particularly the steep challenges they face in today's environment," Hood said.
NAFCU has supported reauthorization of the Export-Import Bank and will continue to support initiatives that strengthen its work with credit unions. Last year, Congress approved a seven-year reauthorization of the bank.
Related Resources
---
Get daily updates.
Subscribe to NAFCU today.