December 18, 2019
Senate passes NDAA; House advances FY2020 spending bills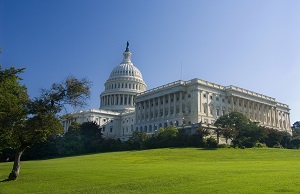 After months of advocacy by NAFCU and credit unions, the Senate passed the fiscal year 2020 National Defense Authorization Act (NDAA) that does not include a credit union-opposed provision regarding bank leases. Additionally, the bipartisan spending package is in the Senate for consideration – following House passage yesterday – and is expected to pass by Friday in order to avert a government shutdown and provide funding through the rest of fiscal year 2020.
NDAA
The Senate Tuesday passed the NDAA on a 86-8 vote; it now moves to the president for his signature. The House passed the legislation last week.
NAFCU's months-long advocacy campaign ensured a credit union-opposed provision that would have treated big banks the same as a military installation's local, not-for-profit credit union when it comes to nominal leases was not included in the final report.
As the credit union industry's Washington Watchdog, NAFCU's advocacy against the inclusion of the nominal lease provision began early this year – before the House and Senate Armed Services Committees even began work on their respective bills – to reiterate credit unions' concerns about the provision.
In addition to launching a Grassroots Action Center campaign to allow credit unions to contact their lawmakers directly on the issue, NAFCU teamed up with the Defense Credit Union Council (DCUC) to oppose it on Capitol Hill. The association's advocacy also successfully protected credit unions during the FY2019 NDAA discussions.
Government Funding
Congress last month passed a continuing resolution extending funding to this Friday, Dec. 20. The House advanced two spending packages to the Senate that contain a dozen spending bills for various federal departments and agencies between them. The Senate is set to vote on the bills before Friday's deadline.
The funding passed by the House includes NAFCU-sought funding for credit union priorities, including the Community Development Financial Institutions (CDFI) Fund, Community Development Revolving Loan Fund (CDRLF), and Small Business Administration (SBA) programs:
$262 million for the CDFI Fund, which helps credit unions in low-income areas serve members in need, and the CDFI Fund grant program gives credit unions access to funds that they are not able to raise from the capital markets;

$1.5 million for the CDRLF, which NAFCU has also advocated funding for to support low-income members and underbanked communities; and

$99 million for the SBA's 7(a) loan program to prevent fee increases, which

NAFCU witness Gail Jansen had 

raised concerns about the increased fees

 during congressional testimony earlier this year.
Other notable inclusions include:
a seven-year reauthorization of the Export-Import Bank, which provides low-cost financing for overseas buyers of U.S. products

;

a seven-year reauthorization of the Terrorism Risk Insurance Program

;

an extension of the National Flood Insurance Program through the end of the 2020 fiscal year

;

 
provisions for some tax fixes and extenders, including a NAFCU-sought fix to repeal excise tax imposed on certain fringe benefits (such as parking) offered by not-for-profits.  NAFCU-sought grandfathering of the excise tax on certain executive compensation was not addressed in the bill;

exclusion from gross income certain mortgage debt that has been discharged; 

and

treatment of mortgage insurance premiums as qualified residence interest for purposes of the mortgage interest deduction.
Stay tuned to NAFCU Today  for updates from Capitol Hill.
Related Resources
---
Get daily updates.
Subscribe to NAFCU today.