September 25, 2019
NAFCU, working with DCUC, continues NDAA push on the Hill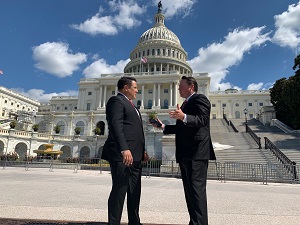 NAFCU President and CEO Dan Berger, along with Defense Credit Union Council (DCUC) President and CEO Anthony Hernandez, and members of NAFCU's Legislative Affairs team were on Capitol Hill yesterday to continue discussions with lawmakers to ensure that an industry-opposed provision is not included in the final version of the FY2020 National Defense Authorization Act (NDAA). Last year, NAFCU's efforts led House and Senate conferees of the FY2019 NDAA to drop the provision regarding bank leases on military installations.
View the full conference committee and learn more about what this section would mean for credit unions.
The provision – if included in the final version of the bill – would treat all banks, including large ones like Wells Fargo, the same as local, not-for-profit credit unions when it comes to nominal leases on military bases. While it was included in the Senate-passed version of the bill, the association's advocacy efforts kept it out of the House bill. NAFCU and DCUC previously teamed up to share credit unions' concerns following the bill's passage. NAFCU believes that enacting this provision would disadvantage credit unions.
While the Department of Defense is not required to offer credit unions space on military bases at a nominal rate, they have chosen to do so because the department "recognizes the value that credit unions bring to our men and women in uniform, in good times and bad."
Credit unions are encouraged to join NAFCU and DCUC in their advocacy efforts by using the association's Grassroots Action Center to contact lawmakers directly and urge them to oppose the provision. During NAFCU's Congressional Caucus earlier this month, hundreds of credit unions held a record number of meetings with lawmakers during which NDAA concerns were directly discussed.
NAFCU's award-winning advocacy team will continue its work to ensure that the provision is not included in the final version of the bill, just as it did lst year. Stay tuned for updates via NAFCU Today as the association vigilantly monitors the conference committee. 
Related Resources
Add to Calendar 2021-04-15 09:00:00 2021-04-15 09:00:00 Attracting Younger Borrowers with Education Lending Listen On: Key Takeaways: [02:29] 66% of Gen Z are saying that they are worried about accumulating or not being able to pay off their student loan debt. More than 80% of respondents in that survey said they are going to attain at least a two-year degree.  [03:21] 67% of student loan borrowers took out at least one additional product with the credit union who they finance their student loan through. It is a great opportunity to not only attract but to continue to retain and grow those relationships. [10:07] Franklin Mint wanted to offer the program to prospective members so they did print advertising, online advertising, outdoor advertising, and Pandora. The first 7 months of the year they averaged 300-400 visits to their student loan page.  After the campaign, it went up to 1500-4000 visits.  Web NAFCU digital@nafcu.org America/New_York public
Consumer Lending, Student Loans, Credit Unions
preferred partner
LendKey
Podcast
Strategy, Marketing, Growth & Retention, Customer Engagement
preferred partner
CUNA Mutual Group
Blog Post
---
Get daily updates.
Subscribe to NAFCU today.