September 19, 2019
NDAA conference committee to meet today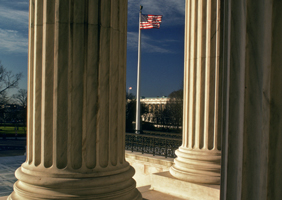 The conference committee established to reconcile differences between the House and Senate versions of the 2020 National Defense Authorization Act (NDAA) is set to hold its first meeting today. NAFCU will monitor discussions related to a provision opposed by credit unions that would treat big banks the same as local, not-for-profit credit unions when it comes to nominal leases on military bases.
The Senate named its conferees Wednesday (see below). NAFCU President and CEO Dan Berger reiterated credit unions' "commitment to provide military members, veterans and their families with safe, affordable financial products and services" and urged lawmakers to not include the nominal lease provision in the final bill after the House named its members to the committee earlier this week.
The NAFCU-opposed provision was included in the Senate-passed version of the bill, but the association's advocacy efforts kept it out of the House bill.
NAFCU has actively opposed this provision throughout the year, sending letters prior to committee markups to express credit unions' concerns about big banks, like Wells Fargo, potentially receiving the same nominal lease opportunities as a military installation's not-for-profit credit union. The association believes that enacting this provision would disadvantage credit unions.
While the Department of Defense is not required to offer credit unions space on military bases at a nominal rate, they have chosen to do so because the department "recognizes the value that credit unions bring to our men and women in uniform, in good times and bad."
Recently, NAFCU Vice President of Legislative Affairs Brad Thaler called on credit unions to join the association's advocacy and urge their representatives and senators to oppose the provision; NAFCU's Grassroots Action Center has more information available and allows credit unions to contact their lawmakers directly.
Berger and Defense Credit Union Council President and CEO Anthony Hernandez last month also sent a letter to Senate Armed Services Committee Chairman James Inhofe, R-Okla., and Ranking Member Jack Reed, D-R.I., and House Armed Services Committee Chairman Adam Smith, D-Wash., and Ranking Member Mac Thornberry, R-Texas, expressing the industry's concerns about the provision.
Last year, the association's efforts led House and Senate conferees of the FY2019 NDAA to drop the provision regarding bank leases on military installations. NAFCU's award-winning advocacy team will work to ensure it is not included in the final version of the bill, just as it did last year.
Senators on the conference committee include these members of the Armed Services Committee:
Chair James Inhofe, R-Okla.
Roger Wicker, R-Miss.
Deb Fischer, R-Neb.
Tom Cotton, R-Ark.
Mike Rounds, R-S.D.
Joni Ernst, R-Iowa
Thom Tillis, R-N.C.
Dan Sullivan, R-Alaska
David Perdue, R-Ga.
Kevin Cramer, R-N.D.
Martha McSally, R-Ariz.
Rick Scott, R-Fla.
Marsha Blackburn, R-Tenn.
Josh Hawley, R-Mo.
Ranking Member Jack Reed, D-R.I.
Jeanne Shaheen, D-N.H.
Kirsten Gillibrand, D-N.Y.
Richard Blumenthal, D-Conn.
Mazie Hirono, D-Hawaii
Tim Kaine, D-Va.
Angus King, I-Maine
Martin Heinrich, D-N.M.
Elizabeth Warren, D-Mass.
Gary Peters, D-Mich.
Joe Manchin, D-W.V.
Tammy Duckworth, D-Ill.
Doug Jones, D-Ala.
Related Resources
---
Get daily updates.
Subscribe to NAFCU today.