December 12, 2019
NDAA passes House, advances to Senate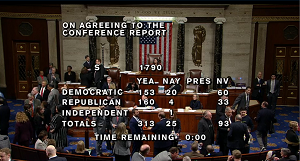 The House Wednesday advanced the fiscal year 2020 National Defense Authorization Act (NDAA), which was reported out of conference earlier this week. NAFCU's months-long advocacy campaign ensured a credit union-opposed provision that would have treated big banks the same as a military installation's local, not-for-profit credit union when it comes to nominal leases was not included in the final report.
The bill passed on a vote of 377-48. It now moves to the Senate for consideration; the president has indicated he will sign the legislation once it passes both chambers.
NAFCU's advocacy against the inclusion of the nominal lease provision began early this year – before the House and Senate Armed Services Committees even began work on their respective bills – to reiterate credit unions' concerns about the provision.
In addition to launching a Grassroots Action Center campaign to allow credit unions to contact their lawmakers directly on the issue, NAFCU teamed up with the Defense Credit Union Council (DCUC) to oppose it on Capitol Hill. NAFCU, DCUC, and CUNA also published an op-ed in Military Times to hit back at bankers' efforts to include harmful provision in the NDAA.
Bolstering the credit union cause, House Armed Services Subcommittee Chairwoman Jackie Speier, D-Calif., and a bipartisan group of more than a dozen lawmakers voiced their support for striking this provision in a letter sent as the conference committee worked to hash out details.
The association's advocacy also successfully protected credit unions during the FY2019 NDAA discussions.
Related Resources
---
Get daily updates.
Subscribe to NAFCU today.