December 10, 2019
NAFCU-led efforts help strip harmful nominal lease provision from final NDAA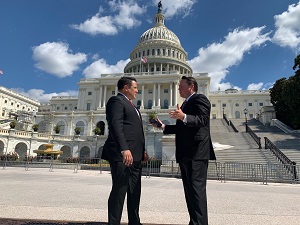 Following months of forceful NAFCU advocacy, the final text of the fiscal year 2020 National Defense Authorization Act (NDAA) was released Monday night and it does not include a harmful provision that would have treated banks the same as a military installation's local, not-for-profit credit union when it comes to nominal leases.
The final bill must still advance to both chambers to vote on before being signed by the president.
"Credit unions always put their members' best interests before profit, and we applaud the release of a modified NDAA that stripped a bank-sought provision that would have treated banks, such as Wells Fargo, the same as not-for-profit credit unions," said NAFCU President and CEO Dan Berger. "It would have also granted banks the ability to end-run the Department of Defense in an attempt to obtain nominal lease space on military bases.
"NAFCU, along with our colleagues at DCUC, has been actively working on Capitol Hill to inform lawmakers of the harm this provision would cause for credit unions and our nation's servicemembers, and we thank conferees for acting on our concerns," Berger added.
While NAFCU successfully prevented this harmful provision from being included in the House version of the NDAA, the Senate version of the bill included it. The association maintained constant contact with members of the conference committee throughout its discussions to ensure the final bill did not include the provision that could have disadvantaged credit unions.
As the credit union industry's Washington Watchdog, NAFCU kicked off its advocacy on the issue early this year, sending letters to the House and Senate Armed Services Committees before they began work on their respective bills to reiterate credit unions' concerns about the provision. The association's advocacy also successfully protected credit unions during the FY2019 NDAA discussions.
Stay tuned to NAFCU Today for updates as the bill moves through the chambers for final approval.
Related Resources
---
Get daily updates.
Subscribe to NAFCU today.