November 17, 2020
Fed's Clarida details newly implemented framework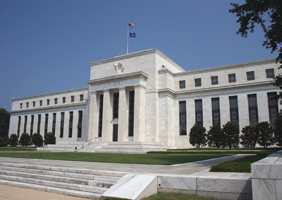 Federal Reserve Vice Chair Richard Clarida Monday provided an update on the Federal Open Market Committee's new strategy framework – adopted in August – to better reflect economic changes and monetary policy approaches.
Throughout the coronavirus pandemic, the Fed has made clear its intention to use its tools to their fullest potential until the crisis has passed and economic recovery is well underway. During its August meeting, the FOMC updated its Statement on Longer-Run Goals and Monetary Policy Strategy, which NAFCU Chief Economist and Vice President of Research Curt Long said "looks to avoid the mistakes of the past."
Under the updated statement, significant changes were made to:
maximum employment, which the FOMC emphasized that maximum employment is a broad-based and inclusive goal and reports that its policy decision will be informed by its "assessments of the shortfalls of employment from its maximum level;"
price stability, as the FOMC adjusted its strategy for achieving its longer-run inflation goal of 2 percent by noting that it "seeks to achieve inflation that averages 2 percent over time," adding that, to achieve it, "following periods when inflation has been running persistently below 2 percent, appropriate monetary policy will likely aim to achieve inflation moderately above 2 percent for some time;" and
explicitly acknowledge the challenges for monetary policy posed by a persistently low interest rate environment.
At the FOMC's September meeting, the committee announced the Fed's plans to increase its holdings of Treasury securities and agency mortgage-backed securities in efforts to "sustain smooth market functioning and help foster accommodative financial conditions," and support the flow of credit to households and businesses. The committee noted the critical role the asset purchases are playing in economic recovery during its meeting earlier this month.
During his speech Monday, Clarida said that, "Looking ahead, we will continue to monitor developments and assess how our ongoing asset purchases can best support achieving our maximum-employment and price-stability objectives." He also indicated the Fed will likely keep rates lower than they otherwise might – even if they do eventually raise rates – to continue supporting the economy.
On inflation, Clarida clarified that the new framework "aims ex ante for inflation to average 2 percent over time, but it does not make a (time-inconsistent) commitment to achieve ex post inflation outcomes that average 2 percent under any and all circumstances and constellations of shocks."
NAFCU will continue to monitor the Fed's efforts to support economic recovery and how they could impact credit unions' operations.
Related Resources
Add to Calendar 2020-12-01 09:00:00 2020-12-01 09:00:00 Beyond the Pandemic Risk Series [Part 1]: Pandemic-Related Lending Portfolio Risks Listen On: Key Takeaways: [08:05] The most critical data that you can get your hands on would be any data that would provide you early indicators that there is going to be a delinquency issue. [10:35] One non-negotiable is that credit unions have a monitoring program that allows them to understand your risk exposure at any point in time.   [13:57] Right now we can't under-score social media; because we all interact virtually, there is a lot of good analytic and trending data that can be provided via social media. As long as you are doing that in a compliant and appropriate manner.   Web NAFCU digital@nafcu.org America/New_York public
Growth & Retention, Risk Management, Consumer Lending, Data and Analytics
preferred partner
Allied Solutions
Podcast
---
Get daily updates.
Subscribe to NAFCU today.