January 26, 2021
Harper named NCUA Board chair; NAFCU follows up with key issues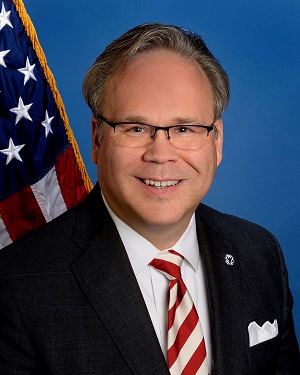 President Joe Biden Monday named Todd Harper as NCUA Board chair. NAFCU President and CEO Dan Berger spoke with Harper after the announcement to congratulate him on the appointment. The two discussed NAFCU's strong working relationship with the NCUA and opportunities to strengthen the credit union industry.
Harper, the board's only Democrat, has served as a board member since April 2019. In a statement on his appointment, Harper indicated he will continue to prioritize issues related to capital and liquidity, consumer financial protection, cybersecurity, and diversity, equity, and economic inclusion while chairman.
Berger also sent Harper a letter congratulating him and highlighting challenges facing the credit union industry in the wake of the coronavirus pandemic. While credit unions and the NCUA have supported flexibility and relief to help members maintain financial stability, "more remains to be done to ensure that credit unions can come out of this pandemic strong and growing so they may continue to offer unparalleled products and services to their communities. We look forward to continuing to work with you on this effort," Berger wrote.
In addition, Berger sent a separate letter Monday to Harper, NCUA Board Vice Chair Kyle Hauptman, and NCUA Board Member Rodney Hood outlining supervision concerns for credit unions approaching the $10 billion threshold, at which point the CFPB also has supervisory authorities.
Berger flagged that credit unions have seen a large influx of deposits over the past year resulting from coronavirus-related relief efforts and changes in members' financial habits.
"As credit unions cross this asset threshold, they encounter new regulatory requirements, which might include heightened supervision, stress testing, and the involvement of new regulators," Berger wrote. "Furthermore, some credit unions may cross the $10 billion threshold now, while they are experiencing share growth, but then dip back down below the $10 billion threshold once members resume their normal spending and saving habits post-pandemic."
To address these concerns, Berger asked the NCUA to consider issuing an interim final rule to provide parity with one issued last year by the federal banking regulators that provides community banks with a transition period through 2022 to either reduce their size or prepare for new regulatory and reporting requirements.
"Should the NCUA decline to provide parity with the rule issued by the other banking agencies, the NCUA should consider issuing a rule to temporarily revise how it calculates total assets, as permitted under the [Federal Credit Union] Act, as a means of alleviating regulatory stresses caused by excess share growth," Berger added. "Delaying recognition of excess share growth would be an appropriate measure to mitigate the regulatory consequences of pandemic-related capital dilution and grant credit unions additional flexibility."
Berger outlined other considerations for adjusting how the NCUA calculates total assets, as well as how the agency can better coordinate supervision with the CFPB for credit unions over the $10 billion asset threshold.
Read Berger's full letter here. NAFCU will continue to work closely with the NCUA Board to achieve an effective regulatory environment that supports a strong, safe, and sound credit union industry.
Related Resources
---
Get daily updates.
Subscribe to NAFCU today.