May 16, 2019
Hood, FI regulators talk safety, soundness with lawmakers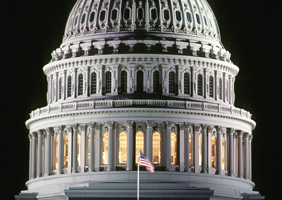 Noting the consolidation of the credit union industry due to burdensome regulations, NAFCU's Brad Thaler urged members of the House Financial Services Committee to balance regulatory relief with enhancing the safety and soundness of the financial system ahead of today's hearing with financial regulators, including the NCUA.
Set to begin at 10:00 a.m. Eastern, the committee will hear from NCUA Chairman Rodney Hood, Comptroller of the Currency Joseph Otting, FDIC Chairman Jelena McWilliams and Federal Reserve Vice Chair for Supervision Randal Quarles.
Thaler, NAFCU's vice president of legislative affairs, reiterated the association's regulatory and legislative tenets:
a regulatory environment that allows credit unions to grow;

tailored regulations and relief from regulatory burdens;

a fair playing field;

government transparency and accountability; and

a strong, independent NCUA.
In addition, Thaler detailed other priorities, including providing credit unions with more relief and guidance under the current expected credit loss (CECL) standard, extending the exam cycle for well-run credit unions similar to recent changes made for banks, and reconsidering the agency's risk-based capital rule.
Thaler also asked the committee to urge the Federal Reserve to "revisit the transaction limitation requirements for savings deposits under Regulation D."
Yesterday, the same panel appeared before the Senate Banking Committee in the "Oversight of Financial Regulators," hearing to discuss issues relating to CECL, Bank Secrecy Act/anti-money laundering  requirements, regulatory relief and data security and privacy.
Hood noted in his testimony Wednesday that the NCUA is working diligently to reduce regulatory burden on credit unions to ensure that they can continue to grow and thrive, and also that it is reviewing its approach to guidance.
Learn more about NAFCU's 2019 priorities here.
Get daily updates.
Subscribe to NAFCU today.