May 10, 2019
CECL focus of NAFCU, NCUA meeting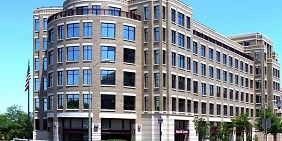 NAFCU met with the NCUA's Office of Examination and Insurance Wednesday to discuss credit unions' concerns related to the Financial Accounting Standards Board's (FASB) current expected credit loss (CECL) standard. NAFCU is diligently working with regulators and lawmakers to obtain more guidance and relief for the industry.
NAFCU member credit unions and NAFCU Executive Vice President of Government Affairs and General Counsel Carrie Hunt, Vice President of Research and Chief Economist Curt Long, Director of Regulatory Affairs Ann Kossachev and Senior Counsel for Research and Policy Andrew Morris attended Wednesday's meeting.
During the meeting, NAFCU sought to better understand the NCUA's approach to CECL examination and resources available for credit unions. Last month, the NCUA joined with other financial regulators to release a CECL FAQ document that addresses a variety of implementation issues, including effective dates, methods, qualitative factors, third-party vendors, supervisory expectations and more. Access the document here.
NAFCU also stressed concerns about credit unions' unique capital framework, which limits the NCUA's ability to mitigate CECL's effect on institutions' net worth without action from FASB. Because of this, NAFCU has urged FASB to exempt credit unions from this standard, and more flexibility with CECL compliance is also among the association's priorities for the NCUA Board to address.
Also Wednesday, Rep. Blaine Luetkemeyer, R-Mo., questioned CECL's impact on credit unions and banks, which could negatively impact their ability to lend to consumers in need. Luetkemeyer raised those concerns during a House Financial Services subcommittee hearing on barriers to minority homeownership.
"We appreciate the NCUA's receptiveness to our concerns regarding the current CECL standard, and we look forward to having an open and robust dialogue with the agency," said NAFCU Director of Regulatory Affairs Ann Kossachev.  "We continue to hear from our member credit unions on this issue and will work to ensure that the credit union industry's voice is heard."
The NCUA's recently released CECL Exam Questionnaire that the agency will be using during upcoming exams in 2019 can be accessed here. For more inside baseball and NAFCU's detailed takeaways from the NCUA meeting, member CFOs can visit NAFCU's CFO forum. Read more about recent CECL developments and NAFCU's ongoing efforts to obtain more relief and guidance for credit unions here.
Related Resources
---
Get daily updates.
Subscribe to NAFCU today.