December 29, 2020
House overrides NDAA veto, votes to increase stimulus check amounts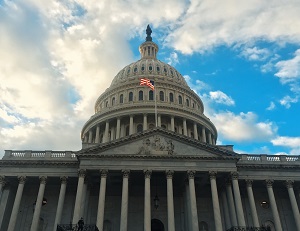 Following President Donald Trump's veto of the fiscal year 2021 National Defense Authorization Act (NDAA) last week, the House Monday, via a 322-87 vote, passed a measure to override the veto. The Senate is also expected to vote on overriding the veto as soon as today. Ahead of the vote, NAFCU Vice President of Legislative Affairs Brad Thaler wrote to congressional leadership to urge them to support the veto override.
In the letter, Thaler reiterated that the fiscal year 2021 NDAA highlights "the important role that defense credit unions play for our men and women in the military in providing traditional financial services and protecting our troops from predatory lenders by protecting credit union military base leases in this legislation."
"Additionally, the Conference Agreement made critical improvements to our Bank Secrecy Act (BSA)/anti-money laundering (AML) regime and requires companies to disclose their true beneficial ownership information to the Financial Crimes Enforcement Network (FinCEN) for the purposes of a newly created nonpublic database of beneficial ownership information," Thaler added.
The final NDAA included several wins for credit unions and NAFCU had previously urged the House and Senate to swiftly pass the legislation after the conference committee released its report. It passed both chambers with large bipartisan margins.
Per the president's urging, the House Monday also voted, in a 275-134 vote, to increase the economic impact payments (EIPs) to adults to $2,000; the current bill provides up to $600 for individuals depending on income level. The House last week attempted to pass by unanimous consent an amendment to the package to meet the president's request, but the measure failed. The bill now moves to the Senate for consideration.
According to reports, Senator Bernie Sanders, D-Vt., has indicated that he will filibuster a vote to override the NDAA veto unless the Senate holds a vote on the increase to the economic impact payments. 
The disbursement of EIPs will likely be delayed to at least next week as Congress works to address this issue and the IRS and Treasury ready the payments to go out.
Stay tuned to NAFCU Today for the latest as the bills move through both chambers.
Related Resources
Add to Calendar 2023-11-30 09:00:00 2023-11-30 09:00:00 Safeguarding Credit Unions with Threat Intelligence Listen On: Key Takeaways: [1:01] What is threat intelligence, and why is it important to CUs? [2:14] What are threat intelligence feeds, and what role do they play in strengthening CUs? [4:41] Leveraging threat feeds and integrating intelligence into tools is crucial. [6:35] Learn what threat CUs should be most concerned about. [7:39] Phishing is ever-evolving, and user awareness is critical. [10:43] Learn how Defense Storm uses feeds to protect its customers. [13:28] Threat intelligence is not as complicated as some think; initiation can be easy through Slack, discussions, and a reporting culture. Web NAFCU digital@nafcu.org America/New_York public
preferred partner
DefenseStorm
Podcast
Consumer Lending
Blog Post
Add to Calendar 2023-11-28 09:00:00 2023-11-28 09:00:00 Growing Creatively & Innovatively in 2024 Listen On: Key Takeaways: [0:58] What can credit unions do to best prepare themselves for 2024? [2:12] Although he sees a glimmer of hope, Jack points out that the liquidity crisis and slow prepayment speeds hamper rapid recovery. [5:22] We discuss how credit unions seek low loan growth through member-centric strategies such as second mortgages and home improvement lending. [7:34] Credit unions are leveraging advancing technology for member-focused engagement. [9:31] How will technology continue to evolve and affect credit unions? [11:43] What role does AI play in innovative growth? [14:14] Credit unions adopt technology for efficiency, enabling staff to focus on personalized member interactions, especially with younger generations. [17:14] Closing thoughts, emphasizing competition against banks and fintech for younger generations. Web NAFCU digital@nafcu.org America/New_York public
Strategy & Growth, Consumer Lending
preferred partner
Allied Solutions
Podcast
---
Get daily updates.
Subscribe to NAFCU today.