December 04, 2020
NAFCU secures CU wins in final NDAA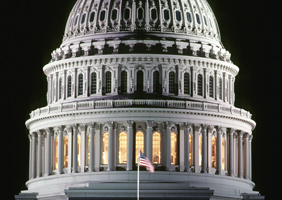 The final fiscal year 2021 National Defense Authorization Act (NDAA) was released Thursday by the conference committee with NAFCU-fought wins for credit unions: It doesn't include the harmful provision that would have treated banks the same as a military installation's local, not-for-profit credit union when it comes to nominal leases, and does include language to make Bank Secrecy Act (BSA)/anti-money laundering (AML) reforms.
The final bill must still advance to both chambers to vote on before being signed by the president.
"The credit union industry consistently demonstrates its commitment to doing what's best for their members and prioritizes people over profits," said NAFCU President and CEO Dan Berger. "We thank lawmakers on the NDAA conference committee for recognizing the key differences between credit unions and banks and removing the bank-sought provision that would have treated banks the same as not-for-profit credit unions.
"We also applaud the committee for including critical BSA/AML reforms, especially House Financial Services Committee Chairwoman Maxine Waters and Representative Carolyn Maloney for their work to secure the provision. This year's NDAA will strengthen protections for our nation's financial system and servicemembers."
NAFCU's NDAA advocacy began early this year to ensure the bank-sought provision was not included. The association worked in coordination with the Defense Credit Union Council (DCUC) and CUNA to build awareness and support on Capitol Hill.
In September, a bipartisan group of 51 representatives, led by Reps. Jackie Speier, D-Calif., John Garamendi, D-Calif., and Paul Cook, R-Calif., sent a letter to the House and Senate Armed Services Committees' leaders urging rejection of the NAFCU-opposed provision included in the Senate's 2021 NDAA. No such provision was included in the House-passed version of the NDAA.
This provision was also included in the Senate's NDAA last year, but NAFCU successfully kept it from being included in a final version of the bill after the two chambers hashed out disparities in a conference committee.
Stay tuned to NAFCU Today for updates as the bill moves through the House and Senate.
Related Resources
---
Get daily updates.
Subscribe to NAFCU today.