June 08, 2020
NAFCU advocacy underway as Congress starts work on NDAA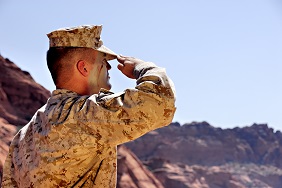 Ahead of the Senate Armed Services Committee's markup this week of the fiscal year 2021 National Defense Authorization Act (NDAA), NAFCU Vice President of Legislative Affairs Brad Thaler reiterated the association's longstanding call to protect credit union nominal leases on military installations and prevent efforts to allow all banks to operate rent-free on military bases.
NAFCU consistently advocates this bank-sought provision in the NDAA and has successfully kept it from being included; see a roundup of its advocacy efforts during the FY2020 NDAA negotiations.
In the letter sent Friday, Thaler explained that while the Department of Defense (DoD) is not required to offer nominal leases to credit unions, it chooses to do so because, "like many others, [it] recognizes the value that credit unions bring to our men and women in uniform, in good times and bad. For example, during the partial government shutdown last year, many credit unions offered programs to assist those impacted by a lack of a paycheck, while other financial institutions did little or nothing."
"It is unfortunate that banking groups continue to ask Congress to require that the DoD treat large mega-banks, such as Wells Fargo, the same as a military installation's local not-for-profit defense credit union when it comes to rent on military bases," Thaler wrote. "While we recognize the important role both credit unions and banks can play for our men and women in the military in the provision of traditional financial services, the fact remains that banks and credit unions are fundamentally different. For-profit banks ultimately focus on benefitting shareholders while credit unions focus on serving their member-owners."
Thaler acknowledged that this is a complex issue, but urged Congress and stakeholders to do what is best for servicemembers.
NAFCU will remain engaged with both the Senate and House Armed Services Committees as they consider the FY2021 NDAA to ensure this provision is again not included.
Related Resources
---
Get daily updates.
Subscribe to NAFCU today.