May 29, 2020
House passes PPP legislation; SBA, Treasury reserve $10B in PPP funding for CDFIs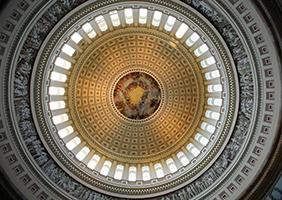 The House Thursday passed bipartisan legislation, on a 417-1 vote, to ease restrictions on how businesses use the paycheck protection program, expanding the terms of the loans. Also on Thursday, the Small Business Administration in partnership with the Treasury Department announced that $10 billion of the PPP's round two funding will be set aside for Community Development Financial Institutions (CDFIs).
"NAFCU appreciates the Treasury Department and the SBA allocating $10 billion in PPP funding to be lent exclusively by CDFIs," said NAFCU President and CEO Dan Berger. "NAFCU has consistently advocated for more PPP funds to be set aside for CDFIs and MDIs to ensure low-income and underserved communities have the financial resources needed to weather the pandemic.
"This decision will allow emergency capital to reach the communities that need it the most during this difficult and uncertain economic period. NAFCU will continue to advocate for additional CDFI funding," Berger added.
The agencies indicated CDFIs have approved more than $7 billion in PPP loans as of May 23, with $3.2 billion occurring during round two.
Since the onset of the coronavirus pandemic, NAFCU has urged for additional funding for the Treasury Department's CDFI Fund and the NCUA's Community Development Revolving Loan Fund to ensure low-income and underserved communities have the resources they need to weather the pandemic.
Under the House-passed bill, small businesses would have up to 24 weeks to use the loans and the deadline for rehiring workers would be extended from June 30 to the end of this year. It would also change the requirement related to the portion of PPP loan forgivable amount that must be used toward payroll from 75 percent to 60 percent.
While the bill now moves to the Senate for consideration, the Senate last week reached its own bipartisan agreement on legislation to extend some provisions of the PPP and proposed its own relief package, S.3833, the Paycheck Protection Program Extension Act. 
NAFCU will continue to monitor the bills as they move through both chambers and remain in contact with the SBA, Treasury Department, and Congress to ensure credit unions can lend effectively through the program. Access NAFCU's recently updated PPP FAQs here.
Related Resources
Add to Calendar 2023-11-30 09:00:00 2023-11-30 09:00:00 Safeguarding Credit Unions with Threat Intelligence Listen On: Key Takeaways: [1:01] What is threat intelligence, and why is it important to CUs? [2:14] What are threat intelligence feeds, and what role do they play in strengthening CUs? [4:41] Leveraging threat feeds and integrating intelligence into tools is crucial. [6:35] Learn what threat CUs should be most concerned about. [7:39] Phishing is ever-evolving, and user awareness is critical. [10:43] Learn how Defense Storm uses feeds to protect its customers. [13:28] Threat intelligence is not as complicated as some think; initiation can be easy through Slack, discussions, and a reporting culture. Web NAFCU digital@nafcu.org America/New_York public
preferred partner
DefenseStorm
Podcast
Consumer Lending
Blog Post
Add to Calendar 2023-11-28 09:00:00 2023-11-28 09:00:00 Growing Creatively & Innovatively in 2024 Listen On: Key Takeaways: [0:58] What can credit unions do to best prepare themselves for 2024? [2:12] Although he sees a glimmer of hope, Jack points out that the liquidity crisis and slow prepayment speeds hamper rapid recovery. [5:22] We discuss how credit unions seek low loan growth through member-centric strategies such as second mortgages and home improvement lending. [7:34] Credit unions are leveraging advancing technology for member-focused engagement. [9:31] How will technology continue to evolve and affect credit unions? [11:43] What role does AI play in innovative growth? [14:14] Credit unions adopt technology for efficiency, enabling staff to focus on personalized member interactions, especially with younger generations. [17:14] Closing thoughts, emphasizing competition against banks and fintech for younger generations. Web NAFCU digital@nafcu.org America/New_York public
Strategy & Growth, Consumer Lending
preferred partner
Allied Solutions
Podcast
---
Get daily updates.
Subscribe to NAFCU today.