January 15, 2019
House small biz chair wants SBA reopened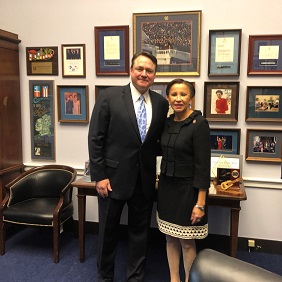 According to a Washington Post article, House Small Business Committee Chairwoman Nydia Velázquez, D-N.Y., is calling for the Small Business Administration (SBA) to be reopened to ensure the nation's small businesses have access to capital.
"It is important that small businesses who apply for loan guarantees that they are able to get their money. This is going to have a direct impact on the operation of their businesses," Velázquez said in the article.
The SBA is one of the agencies impacted by the partial government shutdown. A recent American Banker article highlighted that the SBA has a severe backlog of applications, as it is currently unable to process and approve them.
Miguel Maldonado, senior vice president at NAFCU-member Randolph-Brooks Federal Credit Union (Live Oak, Texas), told American Banker's John Reosti that "depending on how long the shutdown is in effect, we could see some negative impact to the program and the economy."
Velázquez also sent a letter to SBA Administrator Linda McMahon asking how the shutdown is affecting its small business loan programs and how the agency plans to restore them in a timely manner.
"These programs play a critical role in boosting the entrepreneurial and small business sectors of our economy by helping provide access to affordable capital, technical assistance, and procurement opportunities for America's entrepreneurs," Velázquez wrote.
Despite the government shutdown, NAFCU remains diligent in carrying out the responsibilities outlined in the Memorandum of Understanding with the SBA.
NAFCU will continue to keep credit unions updated on the impacts of the government shutdown and funding discussions between Congress and the president. Credit unions' efforts to support members affected by the shutdown have gained national attention.
Related Resources
---
Get daily updates.
Subscribe to NAFCU today.