March 28, 2019
Hunt: Fair access, fair pricing, gov't guarantee needed in housing finance reform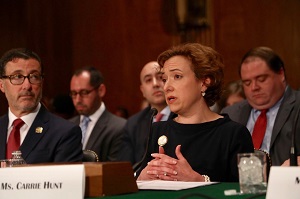 NAFCU's Carrie Hunt told members of the Senate Banking Committee that housing finance reform "all comes down to fair access, fair pricing and ensuring that we have a government guarantee. There are different variations of various models that potentially could work for credit unions, but for us it absolutely is having that consistent channel so [credit unions] can continue to lend."
Hunt, NAFCU's executive vice president of government affairs and general counsel, was responding to a question from Sen. John Kennedy, R-La., about what is wrong with the current housing finance system and how to fix it during Wednesday's hearing.
Hunt provided NAFCU's first testimony of the 116th Congress Wednesday as the Senate Banking Committee considered a housing finance reform proposal from Chairman Mike Crapo, R-Idaho, which includes some provisions that align with NAFCU's position on reform.
During her opening statement, Hunt shared the association's support for a number of the provisions within Crapo's proposal, including:
maintaining a cash window at the guarantors;
creating an explicit government guarantee; and
prohibiting volume-based discounts on pricing.
Responding to a question from Ranking Member Sherrod Brown, D-Ohio, on how small lenders would be impacted by a multi-guarantor model, Hunt said it could create uncertainty for credit unions.
"Credit unions and other small lenders are focused on making the loan, and the benefit of accessing the secondary market is that they have a channel to help them mitigate risk, help them work on balance sheet liquidity. Knowing that there is an avenue and channel – and guaranteed avenue and channel – helps them make the loan in the first place," Hunt explained. "When you add additional players into the system, and it's unclear as to whether or not you're going to have those business relationships to actually to be able to sell them the loan.
"… Ultimately, if we moved to a multiple guarantor system, we could see some positives … in the good times, but about when the economy ultimately turns … what happens then? Do those multiple guarantors not seek out business of small lenders? Do those multiple guarantors constrict? … For us, a multiple guarantor model creates a lot of uncertainty with not a lot of positives over how things operate today."
Sen. Jon Tester, D-Mont., also asked if maintaining the cash window is enough to ensure equal and fair access for small lenders. Hunt noted the importance of the cash window but that it wasn't necessarily a guarantee of fair access.
"There needs to be an affirmative duty that if you are a guarantor or GSE or utility … have a duty to not just serve all markets but all lenders," Hunt said.
NAFCU is leading efforts to ensure credit unions' unfettered access to the secondary mortgage market is maintained in any housing finance solution. The association will continue to share with lawmakers and administration officials its core principles for housing finance reform.
Related Resources
---
Get daily updates.
Subscribe to NAFCU today.