April 18, 2019
Kraninger: CFPB to focus on preventing bad actors, UDAAP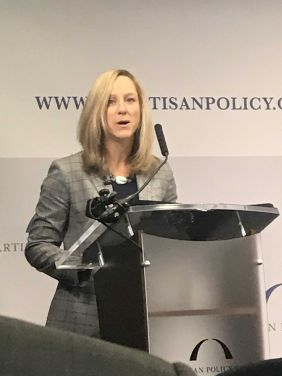 Kathy Kraninger Wednesday, during her first public remarks since becoming director of the CFPB, outlined her vision for the bureau and indicated that it will place greater emphasis on preventing bad behaviors within the financial services industry, including related to debt collectors, and will work to clarify unfair, deceptive or abusive acts or practices (UDAAP). NAFCU attended the event.
Kraninger said by focusing on prevention the bureau expects the number of consumer complaints to the CFPB and the size and number of enforcement actions to decline.
She also announced that the bureau will convene a series of public symposia this year to engage with stakeholders. The first topic will be clarifying UDAAP, specifically the "abusiveness" standard as it is not as well understood as the other components.
Former bureau Acting Director Mick Mulvaney previously indicated the bureau would issue a rulemaking to better clarify its definition of UDAAP. NAFCU has long advocated for the bureau to issue specific guidance on prohibited practices so financial institutions have more clarity. Last year, NAFCU again asked the bureau to issue guidance to clarify the UDAAP standard.
In addition to preventing consumer harm, the bureau's goals outlined by Kraninger include:
empowering consumers through financial education to ensure they can make informed, responsible decisions;
ensuring clear rules of the road and clarifying rules to better enable the use of modern communications technology specifically related to debt collections;
ensuring a culture of compliance through efficient and effective supervision;
holding bad actors accountable and deterring bad behaviors through enforcement; and
increasing transparency and fostering relationships with stakeholders.
Last week, Office of Management and Budget (OMB) Acting Director Russell Vought issued a memorandum directing federal banking regulators and other independent agencies to submit guidance and proposed rules to the Office of Information and Regulatory Affairs (OIRA) to determine whether it is "major" and will require congressional approval. This would apply to the CFPB and could impact its rulemaking process.
Last month, NAFCU President and CEO Dan Berger met with Kraninger to discuss the bureau's rulemaking initiatives and share how the bureau could reduce credit unions' regulatory burden. Berger has communicated credit unions' concerns and priorities with Kraninger since she was confirmed as director in December.
Related Resources
---
Get daily updates.
Subscribe to NAFCU today.