March 05, 2019
Berger, Kraninger meet on CU issues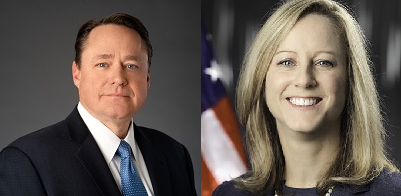 NAFCU President and CEO Dan Berger met with CFPB Director Kathy Kraninger Monday to discuss the bureau's rulemaking initiatives and share how the bureau could reduce credit unions' regulatory burden. The meeting occurred ahead of Kraninger's scheduled testimony Thursday before the House Financial Services Committee.
During Monday's meeting, Berger and Kraninger discussed issues related to implementing provisions of S. 2155, reporting Home Mortgage Disclosure Act (HMDA) data, ensuring fintech competes on a level playing field with credit unions, the bureau's proposed changes to its payday lending rule and compliance with the TILA/RESPA integrated disclosure (TRID) rule.
The bureau, in its fall rulemaking agenda, indicated it would issue an assessment of the TRID rule this year. NAFCU has worked to provide credit unions with greater clarity under some aspects of the rule: a Compliance Blog post addresses TRID FAQs released by the bureau last month, and the association wrote the CFPB to suggest additional areas where FAQs would provide significant clarity and assistance to credit unions. 
NAFCU Executive Vice President of Government Affairs and General Counsel Carrie Hunt also attended the meeting.
Berger has communicated credit unions' concerns and priorities with Kraninger since she was confirmed as director in December. Following Kraninger's confirmation, NAFCU hand delivered a letter with bureau-specific priorities, and Kraninger followed up on the letter with a call to Berger to further discuss credit union priorities. NAFCU also attended a financial services industry roundtable with Kraninger in January.
On Thursday, the House Financial Services Committee will conduct a semiannual review of the CFPB with Kraninger; a similar hearing with the Senate Banking Committee has been scheduled for Tuesday, March 12.
Related Resources
---
Get daily updates.
Subscribe to NAFCU today.