October 18, 2018
Reg relief still priority for administration, agencies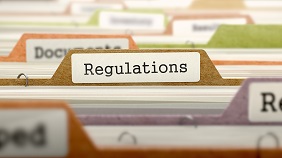 The Trump administration Wednesday released its fall 2018 agenda for regulatory and deregulatory actions; over the past two years, federal agencies have issued 176 deregulatory actions that have contributed to a $33 billion regulatory cost reduction. Obtaining regulatory relief for credit unions to ensure a regulatory environment in which the industry can thrive remains a top priority for NAFCU.
Also Wednesday, the NCUA and the Bureau of Consumer Financial Protection (previously CFPB) released their fall rulemaking agendas.
President Donald Trump, since taking office, has made regulatory relief a priority and has pursued credit union-supported efforts. After months of NAFCU and credit union advocacy, Trump in May signed into law the most comprehensive regulatory relief package (S. 2155) since the Dodd-Frank Act was enacted.
Of note in the various agencies' and departments' plans:
Bureau of Consumer Financial Protection: The new rulemaking agenda indicates the bureau will issue a proposed rule in early 2019 to address concerns with its 2017 payday lending rule. As the NCUA looks to expand its payday alternative loans (PALs) programs, NAFCU has recommended the bureau provide a safe harbor to all credit unions' PALs products. Related to S. 2155, the bureau next year plans to issue a rule to adjust collection and reporting thresholds under the Home Mortgage Disclosure Act (HMDA), and will also pursue clarification on provisions that might not require a rulemaking for implementation. In addition, the bureau plans to issue a rule related to debt collection practices in March 2019, and it will also assess the TILA/RESPA integrated disclosure (TRID) rule. NAFCU maintains that credit unions should not be the target of future debt collection rules.
NCUA: On the NCUA's fall rule agenda are issues the agency is already pursuing, including PALs (final rule expected in December), real estate appraisals, Federal Credit Union Bylaws and loans to members. NAFCU has long supported efforts to modernize bylaws and provide credit unions with flexibility under PALs. The association also believes the NCUA's proposed regulatory reforms to loans and lines of credit to credit union members will positively impact the industry. The agency is also expected to issue a proposed rule on alternative capital and a final rule related to private flood insurance in the coming months.
Small Business Administration (SBA): The SBA has goals to expand access to capital through its lending network, support veterans and military families looking to start or expand their businesses, among others. The agency will also work to implement the NAFCU-supported Small Business 7(a) Lending Oversight Reform Act. Many credit unions use SBA programs, including the 7(a) loan program, to provide loans to small businesses and entrepreneurs in their communities. NAFCU has partnered with the SBA to improve access to credit union small-dollar loans to small businesses across the nation.
Federal Trade Commission (FTC): The FTC will continue to fight against illegal robocalls by coordinating with the Federal Communications Commission (FCC) and other stakeholders. NAFCU has engaged with both agencies as it seeks more clarity and flexibility under the Telephone Consumer Protection Act (TCPA) so credit unions can contact their members without fear of breaking the law. The FCC is currently seeking feedback on the definition of an autodialer, the creation of a reassigned numbers database, among other issues to eliminate illegal robocalls. The FTC this fall will also consider a recommendation to its Safeguards Rule, which implements high level security concepts contained in the Gramm-Leach-Bliley Act. The rule has yet to be updated to address the growing involvement of nonbank financial companies in the financial services marketplace; NAFCU remains engaged with regulators and lawmakers to establish a strong national data security standard and ensure all entities that collect and store consumers' financial information are held accountable.

Department of Labor (DOL): The department plans to issue in March 2019 a proposed rule to revise its 2016 overtime pay rule. Last year, the DOL sought public input on the rule after it was invalidated by a federal judge. NAFCU recommended the department revise the rule with more flexibility and reasonable benchmarks to ensure the credit union industry isn't adversely affected by it.
The association will continue to work with administration and agency officials to ensure credit unions' regulatory relief priorities are considered as federal agencies pursue efforts to reduce regulatory burdens.
Related Resources
---
Get daily updates.
Subscribe to NAFCU today.