September 11, 2019
Lawmakers, SBA share ways CUs can strengthen small biz lending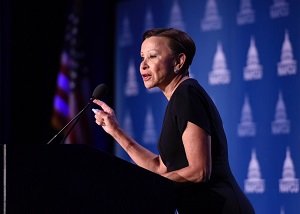 The important role credit unions play in providing capital to the nation's small businesses was highlighted on the second day of NAFCU's Congressional Caucus by key lawmakers – who also stressed the importance of preserving the credit union tax exemption to ensure credit unions can continue serving their communities – and a representative from the Small Business Administration (SBA).
House Small Business Committee Chairwoman Nydia Velázquez, D-N.Y., touted that credit unions' lending to small businesses has more than doubled during a time when overall small business lending has declined.
"When it comes to small business financing, credit unions are a critical piece of the puzzle," Velázquez said. "Working with you is about unlocking opportunity for aspiring entrepreneurs and ensuring working people can access fair, affordable financial products. I will continue to stress the importance of the partnership between credit unions and the Small Business Administration."
To further support credit unions' lending and small businesses' growth, Velázquez said the member business loan cap must be raised or at least altered to provide additional flexibility. Earlier this year, NAFCU-sought legislation that would exclude veterans' loans from the statutory credit union members business loan was reintroduced in the House.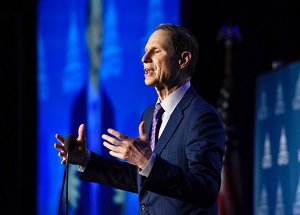 Later in the morning, SBA Regional Administrator for the Mid-Atlantic Region Michelle Christian gave an update on NAFCU's partnership with the agency to increase the number of credit unions offering certain SBA loans. NAFCU and the SBA last week signed a new Strategic Alliance Memorandum (SAM) aimed at expanding access to credit union small-dollar loans to small businesses across the nation.
Christian also explained the Trump administration's efforts to increase small business lending, including modernizing technology, making application and approval processes shorter and more effective, reducing regulations and providing tax cuts.
Closing out Caucus Tuesday were Sen. Ron Wyden, D-Ore., ranking member of the Senate Finance Committee, and Rep. Patrick McHenry, R-N.C., ranking member of the House Financial Services Committee, who both discussed issues related to lending.
Wyden specifically focused on supporting women and minority entrepreneurs in order to fight financial inequalities and protect vulnerable Americans from predatory or unfair lending practices.
"Everybody suffers when people of modest means can't get access to capital," Wyden said. "It is absolutely key that business ownership reflect the diversity of our communities, but that is not the case today … I believe that credit unions can play a bigger role in solving these economic challenges.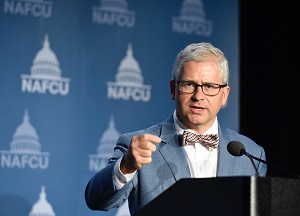 "In community after community, credit unions are doing very exceptional work in trying to throw their doors open – it's why I'm proposing we look at ways to expand your role. Solving this issue, the inability for so many talented people to get businesses off the ground, would be a win for each of you," Wyden said.
Similarly, McHenry expressed concerns about banking deserts and areas that have been left behind without a financial institution. He offered insights into innovation, including how credit unions, regulators, and lawmakers need to adapt to ensure consumers and small businesses can continue to access capital and other financial services that they need.
"It's not about more or less regulation, it's about smart versus dumb regulation," McHenry concluded. "Credit unions weren't the cause of the financial crisis, but you're part of the solution every day in our communities."
Related Resources
---
Get daily updates.
Subscribe to NAFCU today.