February 13, 2019
NAFCU addresses pros, cons of marijuana banking in new resource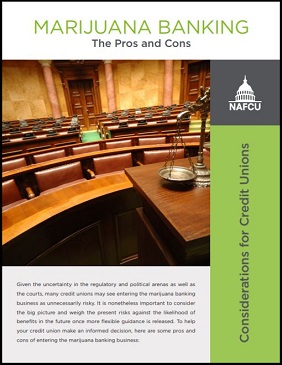 To help credit unions understand the compliance risks associated with serving marijuana-related businesses (MRBs), NAFCU has released a new resource featuring some pros and cons on the issue.
NAFCU's new resource comes just as a House Financial Services subcommittee is set to hold a hearing today on providing banking services to MRBs. Ahead of the hearing, NAFCU Vice President of Legislative Affairs Brad Thaler sent a letter noting credit unions' hesitation to provide financial services to MRBs because of the risk.
"NAFCU does not have, and is not taking, a position on the broader question of the legalization or decriminalization of marijuana at any degree at the federal or state level," Thaler wrote. "However, we do support Congress examining what legislative steps can be taken to provide greater clarity and legal certainty at the federal level for credit unions that choose to provide financial services to state-authorized MRBs and ancillary businesses that may serve those businesses, in states where such activity is legal."
There has been uncertainty about financial institutions' ability to serve MRBs in states that have legalized the drug. In January 2018, former Attorney General Jeff Sessions rescinded directives that had instructed federal prosecutors to ease marijuana enforcement in states that have legalized the substance. That decision in turn muddied guidance issued by the Financial Crimes Enforcement Network (FinCEN) to clarify Bank Secrecy Act (BSA) expectations for financial institutions providing services to MRBs.
However, President Donald Trump's nominee for attorney general, William Barr who is awaiting confirmation by the Senate, said during his confirmation hearing that he would not pursue marijuana businesses that relied on FinCEN's previously issued guidance. In addition, FinCEN Director Kenneth Blanco has also told financial institutions interested in serving MRBs to follow those guidelines.
Some of the pros noted in NAFCU's newest document include: serving a member in need and providing financial services to a largely unbanked population, high fee income due to premiums on risk, increased liquidity and net worth ratios and early access to what will likely become a competitive field.
On the other side, some potential cons to consider include: increased scrutiny as marijuana is still illegal at the federal level, increased NCUA exam burdens, legal complications, costly trainings and reputational risks.
In addition to the new pros and cons resource, NAFCU has additional information available on its Compliance Blog and has explored the issue in its monthly Compliance Monitor newsletter and bimonthly magazine.
Related Resources
---
Get daily updates.
Subscribe to NAFCU today.