May 07, 2019
NAFCU advocates for TCPA modernization, broader 'autodialer' definition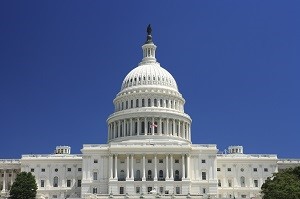 NAFCU Vice President of Legislative Affairs Brad Thaler urged the Senate Appropriations Subcommittee on Financial Services and General Government to ensure that efforts to stop illegal robocalls do not hamper a credit union's ability to freely communicate with members in a letter ahead a hearing today.
The subcommittee is set to review the Fiscal Year 2020 budget requests for the Federal Communications Commission (FCC) and the Federal Trade Commission (FTC) at 2:30 p.m Eastern. Witnesses include FCC Chairman Ajit Pai and FTC Chairman Joseph Simmons.
Ahead of the hearing, Thaler reiterated the association's concerns related to the definition of an automatic telephone dialing system and the need for clarity under the Telephone Consumer Protection Act (TCPA).
"NAFCU supports a broad definition of 'autodialer' that only includes equipment that uses a random or sequential number generator to store or produce numbers and dial those numbers without human intervention," wrote Thaler.
NAFCU has actively worked with the FCC on efforts to modernize the TCPA for more than three years. The association has previously shared its concerns related to the definition of an autodialer and the need for clarity under the TCPA to ensure credit unions can contact their members without fear of breaking the law.
Thaler thanked Congress and the FCC for their efforts in deterring unwanted, illegal robocalls, but reminded the subcommittee that credit unions make legitimate calls to members with important information regarding their accounts.
NAFCU met with the FCC's Consumer and Governmental Affairs Office, as well as staff from individual commissioners' offices, earlier this year to discuss issues under TCPA and will monitor today's hearing for any discussion regarding TCPA.
Related Resources
Add to Calendar 2019-06-25 14:00:00 2019-06-25 14:00:00 The Millennial SmartPath™: A Powerful Tool to Help Millennials with Retirement Savings Watch the Webinar On-Demand About the Webinar As the first true "post-pension" generation, millennials must save enough for retirement largely on their own. This can be challenging for a generation saddled with record levels of student loans, but millennials are rising to the challenge. In fact, despite the stereotypes, some studies show that millennial money habits are just as good—or better—than those of other generations. Join us as we provide tips, advice, and a better understanding of best strategies for millennials—including harnessing the power of compounding, finding extra dollars to save, saving for college and retirement, managing debt, and asset allocation guidance. Web NAFCU digital@nafcu.org America/New_York public
webinar
preferred partner
Pentegra Retirement Services
---
Get daily updates.
Subscribe to NAFCU today.