May 07, 2019
NAFCU advocates for TCPA modernization, broader 'autodialer' definition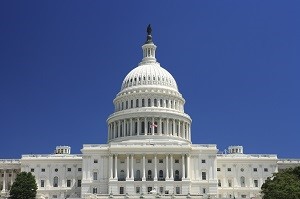 NAFCU Vice President of Legislative Affairs Brad Thaler urged the Senate Appropriations Subcommittee on Financial Services and General Government to ensure that efforts to stop illegal robocalls do not hamper a credit union's ability to freely communicate with members in a letter ahead a hearing today.
The subcommittee is set to review the Fiscal Year 2020 budget requests for the Federal Communications Commission (FCC) and the Federal Trade Commission (FTC) at 2:30 p.m Eastern. Witnesses include FCC Chairman Ajit Pai and FTC Chairman Joseph Simmons.
Ahead of the hearing, Thaler reiterated the association's concerns related to the definition of an automatic telephone dialing system and the need for clarity under the Telephone Consumer Protection Act (TCPA).
"NAFCU supports a broad definition of 'autodialer' that only includes equipment that uses a random or sequential number generator to store or produce numbers and dial those numbers without human intervention," wrote Thaler.
NAFCU has actively worked with the FCC on efforts to modernize the TCPA for more than three years. The association has previously shared its concerns related to the definition of an autodialer and the need for clarity under the TCPA to ensure credit unions can contact their members without fear of breaking the law.
Thaler thanked Congress and the FCC for their efforts in deterring unwanted, illegal robocalls, but reminded the subcommittee that credit unions make legitimate calls to members with important information regarding their accounts.
NAFCU met with the FCC's Consumer and Governmental Affairs Office, as well as staff from individual commissioners' offices, earlier this year to discuss issues under TCPA and will monitor today's hearing for any discussion regarding TCPA.
Related Resources
Consumer Lending
Blog Post
Add to Calendar 2020-09-24 11:00:00 2020-09-24 11:00:00 Diversify Your Portfolio with Student Loan Refinancing and Participations About The Webinar Join us for a conversation with 2 credit union leaders from Member Student Lending (CUSO) on how student loan refinancing opens doors to younger prime borrowers while mitigating risk through modern loan participations. Hundreds of credit unions are tapping into these real-time participation programs to grow their membership base and extend the lifetime value of their member relationships. Join the webinar to hear from credit unions currently active in student loan participation lending: The myths and benefits of student loan refinancing  How modern loan participations work  Examples of the lifetime value of student lending   And find out how you can mitigate risk through modern loan participations while attracting new Gen-Z and Millennials to your credit union for a potential lifetime of lending.   Watch the Webinar On-Demand Web NAFCU digital@nafcu.org America/New_York public
preferred partner
LendKey
Webinar
Fraud, NCUA, Credit Unions, Compliance, Risk Management
preferred partner
Allied Solutions
Blog Post
---
Get daily updates.
Subscribe to NAFCU today.