August 13, 2020
NAFCU calls on lawmakers to consider CECL elimination bill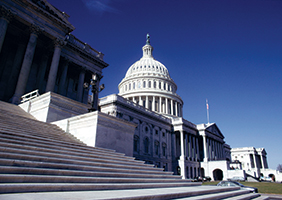 NAFCU's Brad Thaler Wednesday asked House Financial Services Committee Chairwoman Maxine Waters, D-Calif., and Ranking Member Patrick McHenry, R-N.C., to hold a hearing to explore the impact the Financial Accounting Standard Board's (FASB) current expected credit loss (CECL) standard will have on financial institutions, particularly small credit unions, and consider committee member Blaine Luetkemeyer's, R-Mo., proposed legislation to not require compliance with the standard.
NAFCU maintains that credit unions should not be subject to CECL. It will be among key issues discussed by the association, lawmakers, and regulators during next month's Virtual Congressional Caucus. Access resources on the standard here; learn more about Caucus and register now.
"The CECL standard is an unnecessarily complex accounting method for credit unions and only adds to mounting regulatory stress," wrote Thaler, NAFCU's vice president of legislative affairs. "In such a climate, we urge continued attention to the detrimental costs that will likely result from implementation of the standard, particularly for small credit unions."
Luetkemeyer introduced the Eliminating CECL Accounting Standard Act, H.R. 7914, last week, which specifies that "no person shall be required to comply with the CECL Rule under any Federal statute or regulation."
Although CECL isn't set to take effect for credit unions until 2023, Thaler noted that "credit unions have wrestled with its potential impact on data warehousing processes and loan loss reserves. Although the majority of credit unions remain well-capitalized, NAFCU continues to hear from credit unions about the significant investments that are necessary to implement CECL and the serious impact to operations that could soon take place."
Luetkemeyer has long criticized the CECL standard, arguing that it could negatively impact credit unions' ability to lend to consumers in need. He was part of a bipartisan group of lawmakers who introduced a "stop and study" bill last year to further investigate the standard's impact and earlier this year urged FASB to suspend and further delay its implementation amid the coronavirus pandemic.
NAFCU President and CEO Dan Berger recently sent a letter to FASB's new chairman urging an exemption, citing concerns about procyclicality and the standard's propensity to exacerbate capital and liquidity issues during economic downturns as well as lawmakers' calls for additional studies on the impact of CECL.
The NCUA has proposed a three-year phase-in plan of the day-one adverse impacts of CECL on federally-insured credit unions' net worth ratios, which is on par with a rule issued by banking regulators for community banks. The proposed rule would also exempt credit unions under $10 million from complying with CECL. NCUA Chairman Rodney Hood has backed NAFCU's call for an exemption for credit unions under the standard.
Get daily updates.
Subscribe to NAFCU today.