June 12, 2019
CECL 'stop and study' bill introduced in House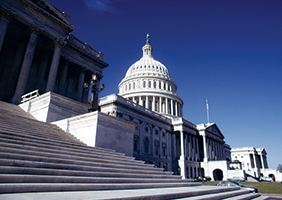 A bipartisan group of 10 representatives – led by House Financial Services Committee Member Vicente Gonzalez, D-Texas – has introduced legislation to halt the implementation of the current expected credit loss (CECL) standard and require regulators to study its impact, similar to legislation introduced in the Senate last month.
"We thank Representatives Vicente Gonzalez, David Scott, Brad Sherman, Josh Gottheimer, Henry Cuellar, Blaine Luetkemeyer, Roger Williams, French Hill, Barry Loudermilk and Ted Budd for introducing bipartisan legislation that would halt the implementation of CECL until a joint regulator study can be completed to fully understand its economic impact on credit unions and their 117 million members," said NAFCU President and CEO Dan Berger.
"While NAFCU urges credit unions to prepare for CECL's 2022 implementation date, we will continue to advocate for credit unions to be fully exempt from CECL, as they did not take part in the poor lending practices that led to the financial crisis."
The legislation would require the Securities and Exchange Commission (SEC) to coordinate a study with the Financial Accounting Standards Board (FASB) and financial regulators – including the NCUA – to determine CECL's impact on the availability of credit for consumers and small businesses, whether the standard will pose systemic risks to the U.S. economy and how it will affect financial institutions of various sizes.
The study would then be submitted to Congress. The bill mandates a delay of CECL's enforcement for one year after the study is completed.
In addition to these standalone bills, there are other efforts underway to delay CECL. A report accompanying the fiscal year 2020 financial services and general government bill includes NAFCU-backed language directing the NCUA, alongside five other regulators, to conduct a joint study on the economic impact of the current expected credit loss (CECL) accounting standard. The study would be due 180 days – or six months – following congressional passage of this bill.
NAFCU stressed concerns about credit unions' unique capital framework, which limits the NCUA's ability to mitigate CECL's effect on institutions' net worth without action from FASB. Because of this, NAFCU urged FASB to exempt credit unions from this standard. More flexibility with CECL compliance is also among the association's priorities for the NCUA Board to address.
NAFCU will continue to work with all stakeholders to obtain relief for credit unions under CECL. Resources for credit unions are available here.
Related Resources
---
Get daily updates.
Subscribe to NAFCU today.