May 23, 2019
CECL 'stop and study' bill introduced in Senate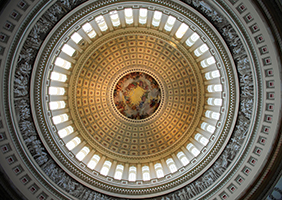 Senate Banking Committee Member Thom Tillis, R-N.C., introduced legislation requiring the Financial Accounting Standards Board (FASB) to halt implementation of its current expected credit loss (CECL) standard and conduct a quantitative study to determine the standard's impact on a number of concerns, including capital and the economy as a whole.
The legislation is cosponsored by Senate Banking Committee Members Jerry Moran, R-Kan., Mike Rounds, R-S.D., Kevin Cramer, R-N.D., Tom Cotton, R-Ark., and David Perdue, R-Ga. Efforts to introduce similar legislation are also underway in the House.
"We thank Senator Thom Tillis and the cosponsors for introducing legislation to halt the enforcement of the CECL standard until its impact can be fully studied and understood. We encourage the Senate to act swiftly on this bill," said NAFCU President and CEO Dan Berger. "As it stands, CECL is an unnecessarily complex accounting method that only adds to the mounting regulatory stress placed upon credit unions.
"Taking the time to fully study the consequences of this new regulation on consumers' access to credit and the economy as a whole is a necessary step that must be taken. More so, we continue to maintain that credit unions should be exempt from CECL."
The Continued Encouragement for Consumer Lending Act (S. 1564) would require FASB to work with the Securities and Exchange Commission (SEC) and financial regulators, including the NCUA, to review CECL's impact and report the findings to Congress. Financial institutions would not be required to comply with the standard until one year after the report is submitted to Congress.
NAFCU stressed concerns about credit unions' unique capital framework, which limits the NCUA's ability to mitigate CECL's effect on institutions' net worth without action from FASB. Because of this, NAFCU urged FASB to exempt credit unions from this standard. More flexibility with CECL compliance is also among the association's priorities for the NCUA Board to address.
The association recently met with the NCUA to discuss CECL and continues to share its concerns with FASB and lawmakers. These concerns were directly cited during a House Financial Services Committee hearing last week at which NCUA Chairman Rodney Hood testified.
NAFCU will continue to work with all stakeholders to obtain relief for credit unions under CECL.
Related Resources
---
Get daily updates.
Subscribe to NAFCU today.