May 17, 2019
Hood addresses CECL, NOL, loan maturity limits in House hearing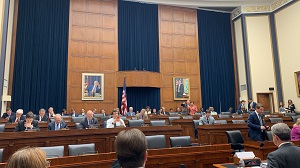 NAFCU's concerns about the negative impact of the current expected credit loss (CECL) standard on credit unions – including increasing the cost of credit to consumers, constraining the amount of credit available and limiting credit unions' abilities to make loans in the mortgage and personal loan spaces – were directly cited by Rep. Blaine Luetkemeyer, R-Mo., during Thursday's House Financial Services Committee hearing.
In response, NCUA Chairman Rodney Hood said the agency is aware of the concerns and acknowledges that implementation of the standard will be difficult for smaller credit unions to manage. He also said the NCUA plans to seek more assistance from the Financial Accounting Standards Board (FASB) to address these issues.
Luetkemeyer has been a vocal critic of CECL and introduced legislation last Congress to force FASB to halt the standard's implementation and study its economic impacts. He asked the panel of financial regulators testifying if they would support efforts to "stop and study" CECL; Hood indicated the NCUA would be supportive of that.
A number of other lawmakers throughout the hearing noted CECL concerns due to the impact on lending and smaller institutions' operations. Read more about NAFCU's efforts on CECL here.
In addition, Hood said he would like to return the National Credit Union Share Insurance Fund's (NCUSIF) normal operating level (NOL) to 1.3 percent – a NAFCU priority – in response to a question from Rep. Brad Sherman, D-Calif. Additional information on NAFCU's efforts to keep the NOL at 1.3 percent – and return it to that level as soon as possible – is available here.
Responding to a question from bill sponsor Rep. Lee Zeldin, R-N.Y., Hood also explained the need for Congress to pass NAFCU-sought legislation to give the NCUA greater flexibility in setting loan maturity limits, noting that the current limit prevents many consumers from having access to mortgage lending opportunities.
Comptroller of the Currency Joseph Otting, FDIC Chairman Jelena McWilliams and Federal Reserve Vice Chair for Supervision Randal Quarles also appeared before the House Financial Services Committee Thursday. The same panel testified before the Senate Banking Committee Wednesday.
Ahead of both hearings, NAFCU reiterated its priorities to provide credit unions with regulatory relief and ensure an environment in which they can thrive.
Related Resources
---
Get daily updates.
Subscribe to NAFCU today.