June 12, 2019
NAFCU engaged as House panel considers BSA, NFIP reforms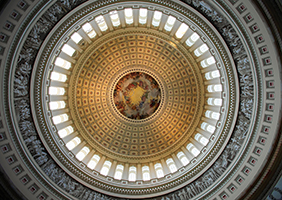 Ahead of the House Financial Services Committee markup of several bills, NAFCU's Brad Thaler Tuesday offered credit unions' perspective on a number of issues being discussed, including reforms to Bank Secrecy Act (BSA) provisions and the National Flood Insurance Program (NFIP), and financial literacy efforts related to homebuying.
NAFCU will continue to monitor the markup, which continues today, and update credit unions on any additional amendments that may be added before the bills are advanced. Here is more information on the bills NAFCU is engaged on:
The Corporate Transparency Act (H.R. 2513).
This bill offered by Rep. Carolyn Maloney, D-N.Y., would help financial institutions comply with the new customer due diligence rule by requiring companies to disclose their true "beneficial owners" to the Financial Crimes Enforcement Network, wrote Thaler, NAFCU's vice president of legislative affairs. This information would then be used to create a database of beneficial ownership information that would be available to law enforcement agencies and financial institutions.
The committee previously advanced a bill related to thresholds for suspicious activity and currency transaction reports. A bipartisan group of Senators is also working on draft legislation related to BSA issues.
The National Flood Insurance Program Reauthorization Act
Thaler reiterated NAFCU's support for long-term reauthorization of the NFIP (Congress recently passed an extension to Sept. 30).
"We are pleased to see that the bill includes program improvements and takes steps to continue the financial solvency of the program to maintain market stability," Thaler wrote in response to Committee Chairwoman Maxine Waters', D-Calif., proposal. "We would caution against any attempts to raise annual premium rates too rapidly, as this may lead to attrition in the program and further long-term uncertainty for lenders."
The Housing Financial Literacy Act (H.R. 2162)
"Research has shown that financial literacy programs drastically lower late payment and default rates, lowering costs for the homeowners and making housing more affordable," Thaler wrote. He said the provisions of this bill, offered by Rep. Joyce Beatty, D-Ohio, "would incentive first-time homebuyers to participate in financial literacy programs" in order to receive a discount on Federal Housing Administration mortgage insurance premium payments.
Related Resources
---
Get daily updates.
Subscribe to NAFCU today.