January 11, 2019
NAFCU estimates up to $150M in SIF distributions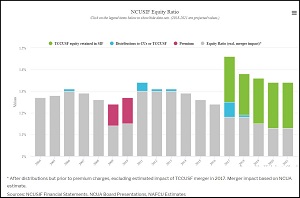 NAFCU's award-winning research team has released an updated analysis of the National Credit Union Share Insurance Fund (NCUSIF). Based on its forecast through the end of 2018, NAFCU believes the fund will finish the year with enough equity to provide credit unions with a distribution in the range of $100 million to $150 million. Actual results may differ as this estimate is based on assumptions about share growth and insurance losses in the fourth quarter.
The updated analysis takes into consideration the merging of the fund with the Temporary Corporate Credit Union Stabilization Fund (TCCUSF), changes to loss in reserves, the $736 million distribution given to credit unions in February 2018, and the failure last year of several credit unions with concentrated taxi medallion loans.
NAFCU Chief Economist and Vice President of Research Curt Long also notes that the NCUA revised the NCUSIF's normal operating level (NOL) in 2018 to 1.38 percent from 1.39 percent, which was the level set after the merger of the NCUSIF and TCCUSF. NAFCU continues to fight for a lowering of the NOL back to 1.3 percent so credit unions can realize the fullest distribution possible.
"This increase in the NOL was a key concern for NAFCU at the time that NCUA's merger plan was proposed and was a major reason why NAFCU ultimately opposed the merger," Long said. "… NAFCU remains opposed to the increase in the NOL, and strongly believes that the nearly $1 billion of additional equity that currently resides in the SIF due to the elevated NOL could be put to better use by credit unions in the service of their members."
The analysis also includes a breakdown of NCUSIF trends, including reserves and insurance loss expenses, investment yield, operating expenses and share growth, as well as NAFCU's optimistic, base and pessimistic forecasts.
Related Resources
---
Get daily updates.
Subscribe to NAFCU today.