November 28, 2018
NAFCU Fed Report: Reg relief needed to sustain CU growth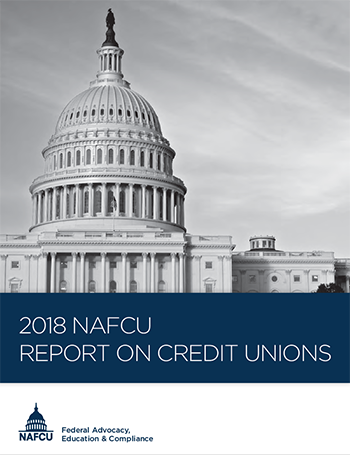 The 2018 NAFCU Report on Credit Unions is now available online. The report shows, among other things, that the credit union industry continues to strengthen and see membership growth, although compliance burdens have led to industry consolidation.
"Our 2018 NAFCU Report on Credit Unions shows that credit unions play a critical role in the economy to the tune of $16 billion annually and continually work to meet the needs of their local communities and members," said NAFCU President and CEO Dan Berger. "The credit union industry remains well-capitalized, financially sound and committed to its members – which is why the industry saw over 4 percent membership growth during the past year.
"More than 114 million Americans are members of a credit union, where 300,000 credit union employees work daily to provide them with the best service possible. However, regulatory and compliance burdens still weigh heavily on the industry's ability to serve its membership. That's why it's so important to NAFCU – the industry's Washington Watchdog – to ensure that the interests of the nation's 5,500 federally insured credit unions are effectively represented," Berger added.
The 2018 Report on Credit Unions looks at five key areas: industry trends, credit unions' service offerings to their members, findings from the Fed's Survey of Consumer Finances, NAFCU and credit union policy priorities, and how credit unions are adapting to financial technology.
Some of the highlights in the 2018 report include the following:
The credit union industry occupies only a small share of the overall financial services landscape, but they provide a reliable source of credit to local communities in good times and bad.
It is vital that credit unions retain reliable access to the secondary mortgage market.
Investing in technology is a priority for credit unions, as evidenced by the growth in the number of institutions offering remote deposit capture, mobile payments, and other electronic services.
Credit unions have enjoyed rapid membership growth in recent years and membership penetration is consistent across most age cohorts.
A primary concern of credit unions and their members continues to be ensuring that our nation's retailers have data security standards to protect consumers' sensitive financial information.
Regulators have taken tentative steps toward increasing their oversight of fintech firms, but non-bank lenders still enjoy a tremendous advantage over the highly regulated credit union industry.
In addition, the report highlights the basic tenets of a healthy and appropriate regulatory environment that are necessary for credit unions to thrive for which NAFCU is advocating: a regulatory environment that allows credit unions to grow; appropriate, tailored regulation and relief from growing regulatory burdens; a fair playing field; government transparency and accountability; and an independent NCUA as the primary regulator for credit unions.
The information compiled in the 2018 NAFCU Report on Credit Unions is based on the association's Federal Reserve Meeting Survey, an annual assessment of NAFCU members covering topics discussed in the report. The report also draws on data collected for NAFCU's Economic & CU Monitor and CU Industry Trends Report.
Related Resources
---
Get daily updates.
Subscribe to NAFCU today.