October 18, 2019
NAFCU, FHFA's Calabria discuss GSEs, volume-based pricing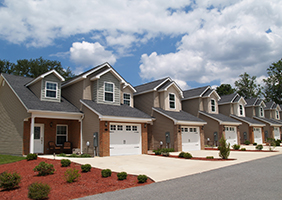 NAFCU Director of Regulatory Affairs Ann Kossachev met yesterday with Federal Housing Finance Agency (FHFA) Director Dr. Mark Calabria for a joint trades meeting to discuss issues related to housing finance reform plans, including ways to preserve access for credit unions to the secondary market through the government-sponsored enterprises (GSEs). Last month, the White House released finalized plans from the Treasury Department and Department of Housing and Urban Development to reform the housing finance system.
NAFCU has been the leading voice for credit unions during housing finance reform discussions and the association continues to work closely with administration officials – including Calabria, with whom Treasury collaborated on its plan.
Following remarks made by Calabria during NAFCU's Congressional Caucus, the FHFA issued a directive to ensure the GSEs end the practice of volume-based pricing discounts. NAFCU supports codifying guarantees on fair pricing and has suggested legislative action to ensure credit unions receive reasonable guarantee fees based on the quality and not quantity of loans sold to the GSEs.
Additionally, the group discussed the FHFA and Treasury Department's decision to allow the GSEs to retain more capital: $25 billion for Fannie Mae and $20 billion for Freddie Mac. NAFCU President and CEO has cautioned the agencies against moving forward with further administrative reforms to remove the GSEs from conservatorship "without first coordinating with Congress to achieve piecemeal legislative guarantees for fair pricing and equal access to the secondary mortgage market."
NAFCU has long advocated for credit unions' unfettered access to the secondary mortgage market and has shared its principles for housing finance reform with Calabria and other stakeholders several times. Members of the association's senior staff and leaders from NAFCU-member credit unions previously met with Calabria in June.
Related Resources
---
Get daily updates.
Subscribe to NAFCU today.