July 06, 2022
NAFCU identifies cons of a CBDC in letter to Commerce Dept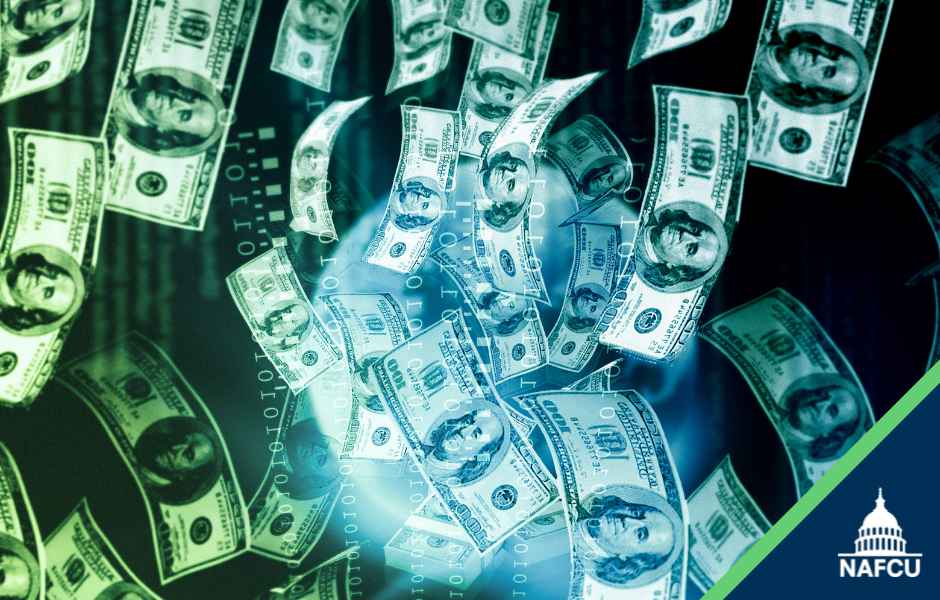 NAFCU Senior Counsel for Research and Policy Andrew Morris Tuesday wrote a letter to the Department of Commerce's International Trade Administration (ITA) in response to its request for comment (RFC) on digital assets, as directed by President Joe Biden's Executive Order on Ensuring Responsible Development of Digital Assets. Through the RFC, the Commerce Department requested feedback on potential impacts that a central bank digital currency (CBDC) would have on the U.S. digital assets sector, to what extent, and more. Of note, NAFCU sent members a Regulatory Alert on the RFC.
With respect to the RFC's solicitation for input on a CBDC, Morris reiterates NAFCU's position that the costs would outweigh the benefits – as the association has communicated previously to the Federal Reserve on the same topic – and namely, that superior alternatives exist for accomplishing the same objectives.
Concerning digital asset regulation, the letter incorporates what NAFCU has conveyed in prior comments to the NCUA and Congress. Specifically, Morris draws attention to private and public sector payments initiatives to illustrate the availability of less disruptive alternatives for achieving payments improvement. On the topic of financial inclusion, Morris highlights the valuable role credit unions already play in terms of reaching underserved populations and recommend - as an alternative to CBDC - ways to support credit union engagement with these communities.
In addition, the letter addresses other questions presented in the RFC, relating primarily to issues of global competitiveness, by offering several high-level principles to incorporate in any future "framework." These principles include:
a level playing field for credit unions, banks, and other financial companies seeking to engage with digital asset technologies;

the application of consumer protection laws to entities facilitating consumer engagement with digital assets; and

support for responsible innovation within the credit union industry.
"With respect to fostering U.S. competitiveness in the broader arena of digital asset related activities, NAFCU encourages the ITA and Commerce to support a level playing field, the consistent application of consumer financial protection law, and the encouragement of responsible credit union innovation," concluded Morris.
Read the full letter. NAFCU has engaged with the Fed on this topic and solicited member feedback to inform the association's comment letter. NAFCU will monitor this topic as discussion about CBDC continues.
Related Resources
Examination & Enforcement Operations
Blog Post
Add to Calendar 2022-11-29 09:00:00 2022-11-29 09:00:00 Personalizing the Member Experience About the Webinar A new frontier of connected digital and human interactions awaits credit unions. Members are shifting behaviors toward digital sales and service, making keeping up with industry leaders feel like an endless digital arms race. There is no guarantee that higher investment levels will lead to better outcomes. It will be up to credit unions to understand their members and to deliver proactive, intelligent advice that differentiates them from their competitors. An integrated approach to financial data-driven personalization encompasses both digital and human interactions.  Through this webinar, you will discover how Cal Coast Credit Union works to simplify its members' lives, offer them the best customer service available, and ultimately help them achieve financial prosperity.    Attendees will learn how to: Overcome the main challenges credit unions face, Keep up with the growing demands of members, Identify where to focus digital  investment to drive member impact Create a cohesive and long-lasting member experience across all channels. Credit unions are ideally positioned to deliver unified advice to members across digital and banker channels. With a deep understanding of members' needs and a personalized experience, the credit union can compete and stay ahead of the curve in an exciting new era. REGISTER NOW Web NAFCU digital@nafcu.org America/New_York public
preferred partner
Personetics
Webinar
Accounts Examination & Enforcement
Blog Post
---
Get daily updates.
Subscribe to NAFCU today.