October 22, 2020
NAFCU keeping CU priorities top of mind as relief negotiations continue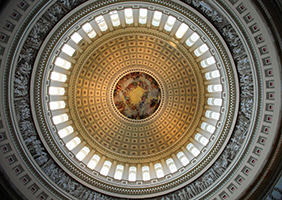 Following the Senate's failure to advance another "skinny" version of its proposed Phase 4 relief package, House Speaker Nancy Pelosi, D-Calif., and Treasury Secretary Steven Mnuchin – who has been representing the Trump administration in relief negotiations – continue to discuss a possible deal. NAFCU's award-winning advocacy team is monitoring discussions and sharing credit union priorities with lawmakers and key stakeholders.
According to news reports, Pelosi has asked Democratic committee chairs to work with their Republican counterparts to hash out some specific policy disputes. Of note, two of the biggest remaining policy issues are related to funding for state and local governments and legal protections to provide businesses and other entities operating during the pandemic.
NAFCU has specifically called for provisions to be included in any final legislation that would provide targeted relief for credit unions as they work to support their members, such as:
Earlier this week, NAFCU Vice President of Legislative Affairs Brad Thaler sent a message to NAFCU member credit unions outlining industry issues that Congress could work on during the post-election lame duck session (see a roundup of the issues here). While the association continues to push for more coronavirus-related relief and other industry priorities, it has achieved some key wins in 2020 to strengthen credit unions.
NAFCU's Grassroots Action Center is a great way to join the association's advocacy efforts and send messages directly to lawmakers. Through the platform, credit unions can also set up local meetings, access background information on important issues and utilize a variety of tools to take action.
Stay tuned to NAFCU Today for the latest developments.
Related Resources
Add to Calendar 2020-12-01 09:00:00 2020-12-01 09:00:00 Beyond the Pandemic Risk Series [Part 1]: Pandemic-Related Lending Portfolio Risks Listen On: Key Takeaways: [08:05] The most critical data that you can get your hands on would be any data that would provide you early indicators that there is going to be a delinquency issue. [10:35] One non-negotiable is that credit unions have a monitoring program that allows them to understand your risk exposure at any point in time.   [13:57] Right now we can't under-score social media; because we all interact virtually, there is a lot of good analytic and trending data that can be provided via social media. As long as you are doing that in a compliant and appropriate manner.   Web NAFCU digital@nafcu.org America/New_York public
Growth & Retention, Risk Management, Consumer Lending, Data and Analytics
preferred partner
Allied Solutions
Podcast
---
Get daily updates.
Subscribe to NAFCU today.