July 24, 2020
NAFCU, trades tout benefits of modernizing E-SIGN, urge Senate support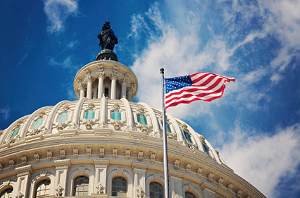 NAFCU joined with several other trade associations Thursday to call on the Senate to modernize the outdated Electronic Signatures in Global and National Commerce (E-SIGN) Act, highlighting that financial services and business have drastically transformed since it was enacted 20 years ago and consumers' internet access and literacy have significantly increased.
The letter to Senate Majority Leader Mitch McConnell, R-Ky., Minority Leader Chuck Schumer, D-N.Y., Senate Commerce Committee Chairman Roger Wicker, R-Miss., and Committee Ranking Member Maria Cantwell, D-Wash., urges support for including the E-SIGN Modernization Act, S. 4159, in the Senate's Phase 4 coronavirus relief package.
The groups note how the coronavirus pandemic has led Americans to use digital platforms to monitor and manage their finances, but E-SIGN requirements have hindered some people's ability to do so.
"Since the beginning of the current crisis, companies large and small have found compliance with the E-SIGN reasonable demonstration requirement…challenging," the letter states. "Financial institutions have faced hurdles to quickly implement loan modifications, transfer balances, complete service requests begun on paper or over the phone, or fulfill requests from displaced customers for access to digital services."
S. 4159 would specifically remove the unwieldy requirement that consumers prove they can access documents electronically before they can agree to receive digital versions. Instead, the bill would allow documents to be sent electronically once the consumer is provided with disclosure information and consents to receive them via digital means.
The letter further argues that the E-SIGN Act's reasonable demonstration provision is an outdated feature and suggests a preference for paper documents rather than technologies that are now widely available. The groups cite comments from lawmakers when E-SIGN was originally passed that express concerns about it becoming overly burdensome and outdated.
In light of the coronavirus pandemic, NAFCU has urged the CFPB to modernize electronic disclosure and signature-related provisions of all its regulations, and also recommended legislative amendments to update the E-SIGN Act. The association has also provided recommendations for the bureau's Taskforce on Consumer Financial Law "to alleviate regulatory burdens, improve access for consumers, and mitigate ambiguities," including by addressing credit unions' e-sign concerns.
The bureau last month said it will take a flexible approach to its supervisory and enforcement practices related to electronic credit card disclosures amid the coronavirus pandemic by not citing violations or bringing an enforcement action against a card issuer "that during a phone call does not obtain a consumer's e-sign consent to electronic provision of the written disclosures required by Regulation Z, so long as the issuer during the phone call obtains both the consumer's oral consent to electronic delivery of the written disclosures and oral affirmation of his or her ability to access and review the electronic written disclosures."
NAFCU will continue to work with Congress and the CFPB to modernize outdated provisions of the E-SIGN Act.
Related Resources
---
Get daily updates.
Subscribe to NAFCU today.