June 27, 2018
NAFCU-led RBC delay passes House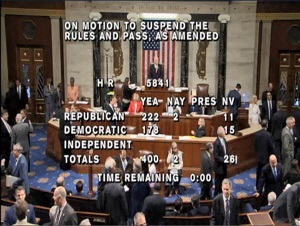 Following NAFCU-led efforts, the House yesterday passed a two-year delay of the NCUA's risk-based capital (RBC) rule. The association has long advocated for a repeal or delay of the rule, and the association's efforts proved instrumental in getting the language added to the Foreign Investment Risk Review Modernization Act of 2018 (H.R. 5841).
"NAFCU thanks Representatives [Robert] Pittenger, [Bill] Posey, [Denny] Heck and Chairman [Jeb] Hensarling for their bipartisan efforts on this RBC-delay provision and for all House members that voted in support of the measure," said NAFCU President and CEO Dan Berger. "We have sought relief from this rule since it was finalized, and we are pleased to see this provision gaining traction as lawmakers recognize the negative impact this rule would have on the credit union industry."
H.R. 5841, introduced by Pittenger, R-N.C., deals with the Committee on Foreign Investment in the United States (CFIUS) but has language in Title VII that would delay the effective date of the RBC rule to Jan. 1, 2021. The language included in H.R. 5841 comes from the Common Sense Capital Relief Act (H.R. 5288), which was introduced by Posey, R-Fla., and Heck, D-Wash., in March. Berger met with Posey and Heck last month to thank them for their ongoing efforts to protect the industry from the adverse effects of this rule.
NAFCU sent a letter to House leaders Monday urging them to pass the bill. While NAFCU supports an appropriate RBC system for credit unions, the NCUA's rule as written will have a negative impact on the credit union industry. The association has been opposed to NCUA's RBC rulemaking since its passage and has urged the rule be modified or effective date delayed, particularly because of increased regulatory burdens and costs.
The bill now moves to be conferenced with the Senate-passed version, which was folded into the National Defense Authorization Act (NDAA) passed by the Senate – a move urged by U.S. Defense Secretary Jim Mattis. NAFCU will continue to lead the push to delay the RBC rule.
Related Resources
---
Get daily updates.
Subscribe to NAFCU today.