February 08, 2023
NAFCU outlines needed regulatory relief for credit unions ahead of hearing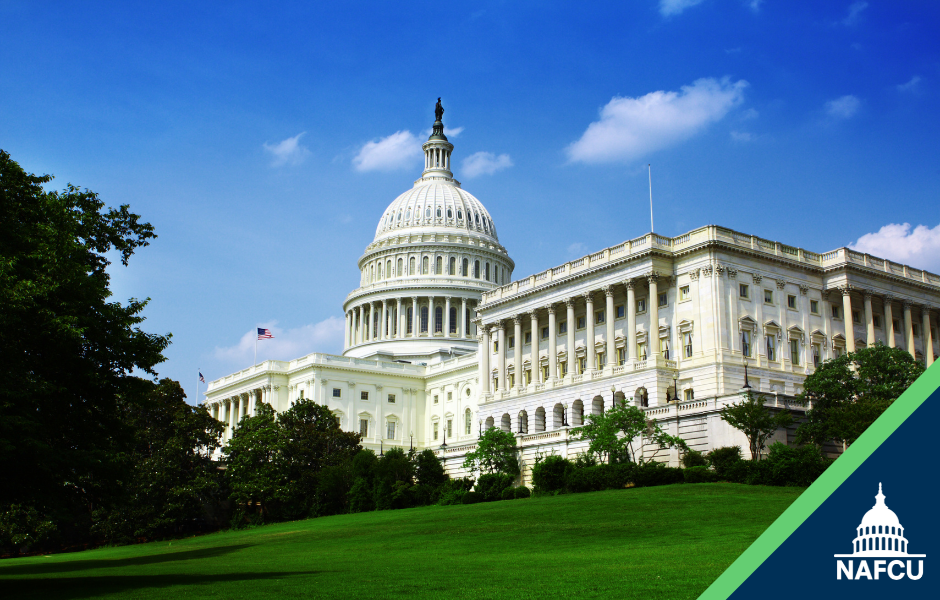 Ahead of today's House Financial Services Subcommittee on Financial Institutions and Monetary Policy hearing on revamping and revitalizing banking, NAFCU's Brad Thaler offered input on areas of financial services regulation that need updating to help credit unions continue to best serve their members.
During the hearing, the subcommittee will discuss data privacy legislation to amend the Gramm-Leach-Bliley Act being worked on by Chairman Patrick McHenry, R-N.C. The bill contains robust state pre-emption that is part of our data privacy principles NAFCU's principles for a federal data privacy standard. In the letter, Thaler, NAFCU's vice president of legislative affairs, calls on the subcommittee to consider the association's principles when engaging on the topic of a financial data privacy bill, as the association has long advocated for a national data privacy standard. Yesterday, ahead of the hearing, McHenry released an updated version of his privacy bill.  NAFCU is reviewing the updated proposal.
Thaler offered thoughts on three other bills that will be discussed during the hearing:
on the Bank Service Company Examination Coordination Act, Thaler reiterated the association's opposition to expanding the NCUA's authority to examine third-party vendors for credit unions; and
on the Promoting Access to Capital in Underbanked Communities Act and the Promoting New and Diverse Depository Institutions Act, he urged the subcommittee to include legislation allowing credit unions to add underserved areas to their fields of membership with all efforts to help underserved and underbanked communities.
In addition, he offered additional areas where credit unions would urge the subcommittee to consider action, such as:
overburdensome regulatory actions from the CFPB, including the bureau's current ignoring of provisions included in the Dodd-Frank Act to protect community institutions, such as its authority under Section 1022 to provide exemptions to smaller entities and its requirements to hold Small Business Regulatory Enforcement Fairness Act (SBREFA) panels for rules that will impact smaller entities – among other topics NAFCU has been vocal on;
modernization of the Federal Credit Union (FCU) Act, including modernizing lending provisions – such as the burdensome member business lending cap – as well as investment options for credit unions and flexibility for the FCU maximal interest rate; and
ensuring fintech companies and regulated financial institutions compete on a level playing field where smart regulations and consumer protections apply to all participants.
Read the full letter. The association will monitor the hearing – happening at 10 a.m. Eastern – and will remain in close contact with Congress to ensure credit unions voices are heard.
Related Resources
Add to Calendar 2023-11-30 09:00:00 2023-11-30 09:00:00 Safeguarding Credit Unions with Threat Intelligence Listen On: Key Takeaways: [1:01] What is threat intelligence, and why is it important to CUs? [2:14] What are threat intelligence feeds, and what role do they play in strengthening CUs? [4:41] Leveraging threat feeds and integrating intelligence into tools is crucial. [6:35] Learn what threat CUs should be most concerned about. [7:39] Phishing is ever-evolving, and user awareness is critical. [10:43] Learn how Defense Storm uses feeds to protect its customers. [13:28] Threat intelligence is not as complicated as some think; initiation can be easy through Slack, discussions, and a reporting culture. Web NAFCU digital@nafcu.org America/New_York public
preferred partner
DefenseStorm
Podcast
Consumer Lending
Blog Post
Add to Calendar 2023-11-28 09:00:00 2023-11-28 09:00:00 Growing Creatively & Innovatively in 2024 Listen On: Key Takeaways: [0:58] What can credit unions do to best prepare themselves for 2024? [2:12] Although he sees a glimmer of hope, Jack points out that the liquidity crisis and slow prepayment speeds hamper rapid recovery. [5:22] We discuss how credit unions seek low loan growth through member-centric strategies such as second mortgages and home improvement lending. [7:34] Credit unions are leveraging advancing technology for member-focused engagement. [9:31] How will technology continue to evolve and affect credit unions? [11:43] What role does AI play in innovative growth? [14:14] Credit unions adopt technology for efficiency, enabling staff to focus on personalized member interactions, especially with younger generations. [17:14] Closing thoughts, emphasizing competition against banks and fintech for younger generations. Web NAFCU digital@nafcu.org America/New_York public
Strategy & Growth, Consumer Lending
preferred partner
Allied Solutions
Podcast
---
Get daily updates.
Subscribe to NAFCU today.